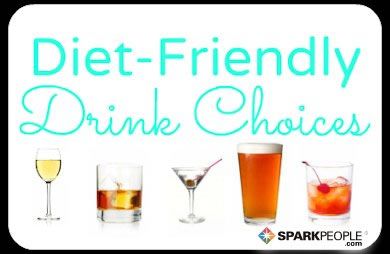 A key to any successful lifestyle change is moderation. While you may be sticking to a healthier eating plan on most days, certain occasions call for a bit of relaxation, oftentimes in the form of an alcoholic drink. While alcohol is fat-free and low in carbs, it's important to remember that it's the calories that count when it comes to weight management. As you know, alcohol and dieting don't mix well—your body processes alcohol first, leaving carbohydrates and fats to get stored as fat instead of getting used as fuel.

Even if you are careful about your alcohol consumption, all drinks are not created equal on the dieting scale and some choices are better than others. Here's a short guide to the calorie contents of different types of alcohol. Use it as a quick resource so you can find low-calorie alcohol choices while sticking to your dietary goals.


The Most Diet-Friendly Drink Choices

Be sure to "Pin" this graphic for future reference.
Wine: The Most Diet-Friendly Choice

If you're going to drink, wine is the most calorie-friendly selection with a typical 20 calories per ounce. Each 5-ounce glass would then be 100 calories with no cholesterol, sodium or fat. This is true for both red and white wine, from merlot to chardonnay. Sherry, a sweet, fortified wine runs a bit higher with 32 calories per ounce but it is usually served in smaller portions as an after-dinner drink.

Here is the nutritional information for some popular wines:

| | | | |
| --- | --- | --- | --- |
| Wine | Calories Per Ounce | Carbs | Per 5-oz Serving |
| Chardonnay | 20 | 0.4 g | 100 calories, 2 g carbs |
| Pinot Grigio | 20 | 0.4 g | 100 calories, 2 g carbs |
| Zinfandel® White Wine | 20 | 0.4 g | 100 calories, 2 g carbs |
| Cabernet Sauvignon | 20 | 0.8 g | 100 calories, 4 g carbs |
| Merlot Red Wine | 20 | 0.8 g | 100 calories, 4 g carbs |
Hard Liquor: Easy on Your Diet

Hard liquor is higher in calories per ounce than wine, and is often mixed with soda, which increases the calorie count. If you're going to drink liquor, use calorie-free mixers like diet soda or diet tonic water. One shot glass or mixed drink will contain about 1.5 ounces of hard liquor.

Here is the nutritional information for some favorites:

| | | | |
| --- | --- | --- | --- |
| Hard Liquor | Calories Per Ounce | Carbs | Per 1.5-oz Serving |
| Vermouth | 32 | 0.2 g | 64 calories, 0.4 g carbs |
| Coconut Rum | 51 | 5.3 g | 77 calories, 8 g carbs |
| Beefeater® Gin | 65 | 0 g | 98 calories, 0 g carbs |
| Rye Whiskey | 69 | 0 g | 104 calories, 0 g carbs |
| Scotch Whiskey | 69 | 0 g | 104 calories, 0 g carbs |
| White Rum | 69 | 0 g | 104 calories, 0 g carbs |
| Vodka | 69 | 0 g | 104 calories, 0 g carbs |
| Cognac | 69 | 2 g | 104 calories, 3 g carbs |
| Tequila | 69 | 5.3 g | 104 calories, 8 g carbs |
| Gilbey's® Gin | 79 | 0 g | 119 calories, 0 g carbs |

Once you start mixing liquor with juice and other sweeteners to create cocktails, both calories and carbs can go up significantly.

Here is the nutritional information for some favorites:
Cocktail
Calories Per Ounce
Carbs Per Ounce
Per Typical Serving
Martini
61
.1
135 calories/
2.2 oz
Cosmopolitan
53
3.3
213 calories/
4 oz
Mojito
40
4
240 calories/
6 oz
Margarita
46
2.1
153 calories/
3.3 oz
Manhattan
39
1.1
130 calories/
3.3 oz
Whiskey Sour
46
3.9
162 calories/
3.5 oz
Daiquiri
56
2.1
224 calories/
4 oz
Piña Colada
55
7.1
245 calories/
4.5 oz
Continued ›