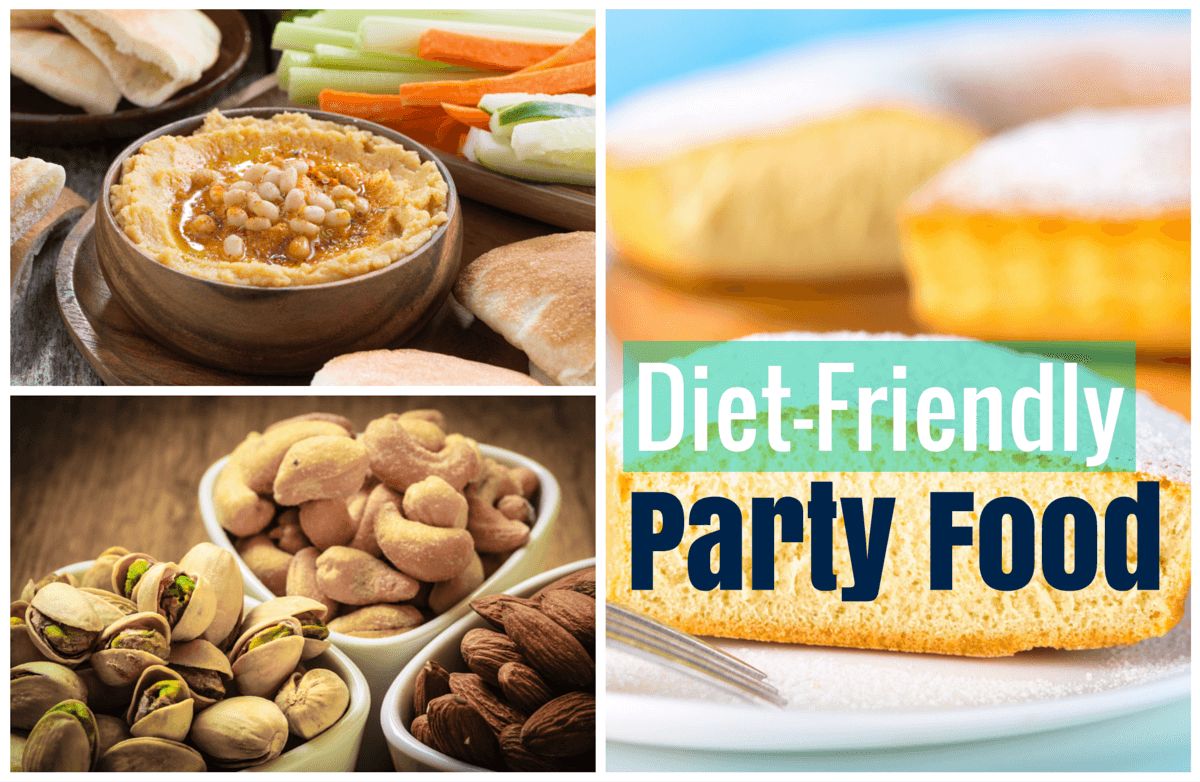 Everyone loves a party. There's something about getting together with your friends that really helps you shed the stress of always trying to balance work and family. But with so many people trying to live healthier these days, finding tasty, diet-friendly food and beverages can be a challenge.

Deciding what you'll serve your guests can be confusing. And with more variety comes more temptation—scientists have proven that we eat more at a buffet. So it's up to you to find healthy recipes for your guests that won't add to their waistlines.

If you are cooking for the party, here are some tips for healthier food choices:
Reduce the fat in creamy dressings or dips by using low-fat or fat-free yogurt instead of sour cream or mayonnaise. Offer hummus as a low-fat spread for crackers and vegetables.

Use non-stick cookware so you can cook with a minimum amount of oil or use a low-calorie vegetable spray.

Use flavored vinegars or lemon juice to enhance the flavor of a salad without adding fat. Or fill a spray bottle with oil and vinegar so your guests can lightly mist their salads with the just enough flavor.

Use low-fat milk and cheese in recipes instead of full-fat varieties.

Choose baked over fried every time. Whether you're preparing a meat dish or your famous nachos, baked foods are always the better choice.

Instead bowls full of pretzels or potato chips, offer your guests a selection fresh fruits and vegetables. Break out of the carrot sticks and celery routine with an Asian-style vegetable platter of baby corn, snow peas and fresh bean sprouts drizzled in a low-fat sesame dressing. For another interesting variation, try a southwestern theme of fresh salsa, black beans and corn served in half a red pepper.

Nuts are a heart-healthy snack choice. Roasted almonds are a great source of magnesium and vitamin E, while pecans and other nuts are rich in monounsaturated fat. Look for raw, unsalted or lightly salted varieties of your favorite nuts. If time allows, roast your own with your favorite seasonings.

Don't bury good foods under fat and sugar. Sweet potatoes are naturally sweet and don't need extra sugar. Bake them, slice and sprinkle with cinnamon instead.

Serve gravies and other sauces on the side so guests can choose how much they would like. When you're making gravy, skim off the fat with a gravy-separating cup or let the drippings cool in the refrigerator first and remove the hardened fat before making the gravy.

Offer alcohol-free drinks. Spritzers made with sparkling water and cranberry (or other fresh juices) and virgin Caesars don't contain empty alcohol calories. Look for 100% juice (not juice mixes), and they'll count towards your guests' daily fruit and vegetable quota. Learn more about alcohol ideas that won't break the calorie bank.

Need dessert ideas? Forgo the high-fat cheesecake and pastries and serve Angel food cake instead. Top it with fresh berries, sorbet or exotic fruits such as mango, papaya and kiwi.

Check our SparkRecipes.com for more healthy party recipes.
Continued ›
Article created on: 8/21/2007