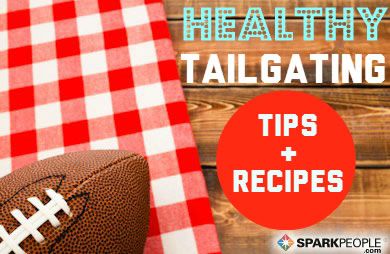 Meeting up with friends before the big game or even going over to a neighbor's house (you know, the one with the biggest TV) can be a recipe for a caloric disaster. Between the fried chicken wings and the bags of chips, how are you supposed to make a healthy choice and still have a good time? Here we share our best tips for making better party food choices and our favorite recipes for delicious, good-for-you treats that all football fans can enjoy.

Plan Ahead
The best way to make good food choices at a party--whether tailgating, hanging out at a bar or someone's house--is to be prepared. If you don't go in super hungry, you won't have to fight cravings. Be sure to eat a healthy snack or meal an hour or two before the get-together. Here are five other strategies to help you make healthy food choices:



1. Keep your hands full with water. You'll stay hydrated, and you can limit your eating to small nibbles.

2. If you know you're an out-of-control grazer, instead of eating constantly throughout the party, allow yourself to fill a small plate and then position yourself away from the food to reduce temptation.

3. Avoid dips and spreads that might be hiding high-fat ingredients. Go for foods you can recognize so you can estimate reasonable portion sizes.

4. Fruit and veggies are always a great choice, but other good options include small slices of protein-packed cheese, turkey or ham from a deli tray; a small bowl of chili (skip the cheese and sour cream); a couple of grilled chicken wings (go easy on any sauce) or salsa used as a veggie dip.

5.

Limit alcohol to save on calories

and prevent lowered inhibitions from leading to less-than-optimal food choices. Be especially wary of beer, which can really pack in the calories without making you feel full. But you don't have to drink only

light beer

. One of the most flavorful beers, Guiness Draught, has just 125 calories per serving (only 23 more than Coors Light).
Continued ›
Article created on: 10/1/2013