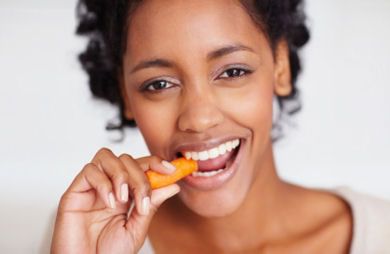 When I was a kid, I played four-square on the playground and learned to eat three square meals a day. Now my meals are supposed to be shaped like a pyramid and I've heard I'm supposed to be eating them six times a day. Is anyone besides me confused?

Meal frequency has been the subject of debate among nutrition experts for decades. The one thing about which almost everyone agrees on is that breakfast is essential. Eating a meal of complex carbohydrates, proteins, and healthy fats within an hour or so of rising can rev up your metabolism and give you fuel for an active day. But how big should it be? And how long after breakfast should you eat your next meal? And what about the one after that?

You may have heard some nutrition and weight loss experts say that people should eat "mini meals" every two to three hours, or four to six times per day. Proponents of this idea claim that eating small meals throughout the day can lower cholesterol, promote weight loss, improve energy levels, boost metabolism, and preserve lean muscle mass. "It sounds good in theory, but there isn't much proof to back most of these claims," says Becky Hand, a Registered and Licensed Dietitian. There is research to support at least one of these claims: In a 2001 study published in The British Medical Journal, researchers found that people who ate six small meals a day had a 5 percent lower average cholesterol level than people who ate one or two larger meals.
Continued ›