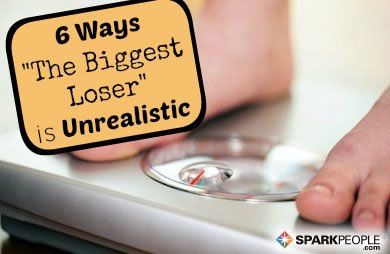 TV can be educational. After all, I outlined eight great lessons you can take from NBC's hit television show, "The Biggest Loser" and apply to your own healthy lifestyle program. I said it then and I'll say it again: I am a big fan of the show, and I love to see the wonderful transformations that take place in the lives of the participants. If you have watched it yourself, you know that the contestants come away with fit bodies, a healthier way of eating, and new way of thinking. While "The Biggest Loser" offers some great lessons and plenty of motivation, there are some other things about the show that are not ideal for the everyday "loser" and some of these things are downright unrealistic!

So as the newest season unfolds this fall, be sure to watch out for the unsafe, unrealistic, or too-good-to-be true tips, which happen from time to time. Combine these realizations with the other take-home lessons, and you'll have lots of great tips and motivation for your own weight loss goals!

6 Lessons to Unlearn

1. Their results are not typical. "Biggest Loser" contestants weigh in once per week. In the first few weeks of each season, the contestants lose massive amounts of weight. I am not talking about four or five pounds either. I'm talking about 15, 20, or even 25 pounds gone in a single week! Healthy weight loss guidelines, like SparkPeople's, state that up to two pounds lost per week is safe for adults. Occasionally, adults with BMI's higher than 30 can safely lose a little more than that. Losing two pounds per week on "The Biggest Loser" would send you home very quickly! Later in the show, everyone's weight loss slows down, and they're disappointed with four-, six- and even eight-pound losses. In reality, even these "small" amounts are more than what most people can expect. In real life, most dieters can lose up to two pounds per week. Remember the lesson from the tortoise and the hare: Slow and steady wins the race! You're more likely to keep the weight off that way (and not go crazy with exercise or dieting extremes during the process).

2. They put their lives on hold. Probably the single biggest factor that makes these folks so successful is that they spend weeks on the "campus" with NO outside distractions. They have no jobs, school, family responsibilities, last-minute meetings, errands to run, bills to pay, cell phones to answer or obligations to attend to. Their only focus is exercising and losing weight. When contestants finally go home, you can see the fear on their faces. They know how hard it will be to continue their diet and exercise plans when LIFE resumes. In the perfect environment—with trainers and dietitians and doctors overseeing every step, we could all be big losers. But weight loss doesn't require putting your life on hold. Sure it'd be easier, but it's pretty unrealistic and it doesn't teach you how to really deal with life and weight loss. Those of us who learn to lose weight and live in the real world are far better off—because we can build habits that really work and create lasting change.

Continued ›
Article created on: 9/15/2008