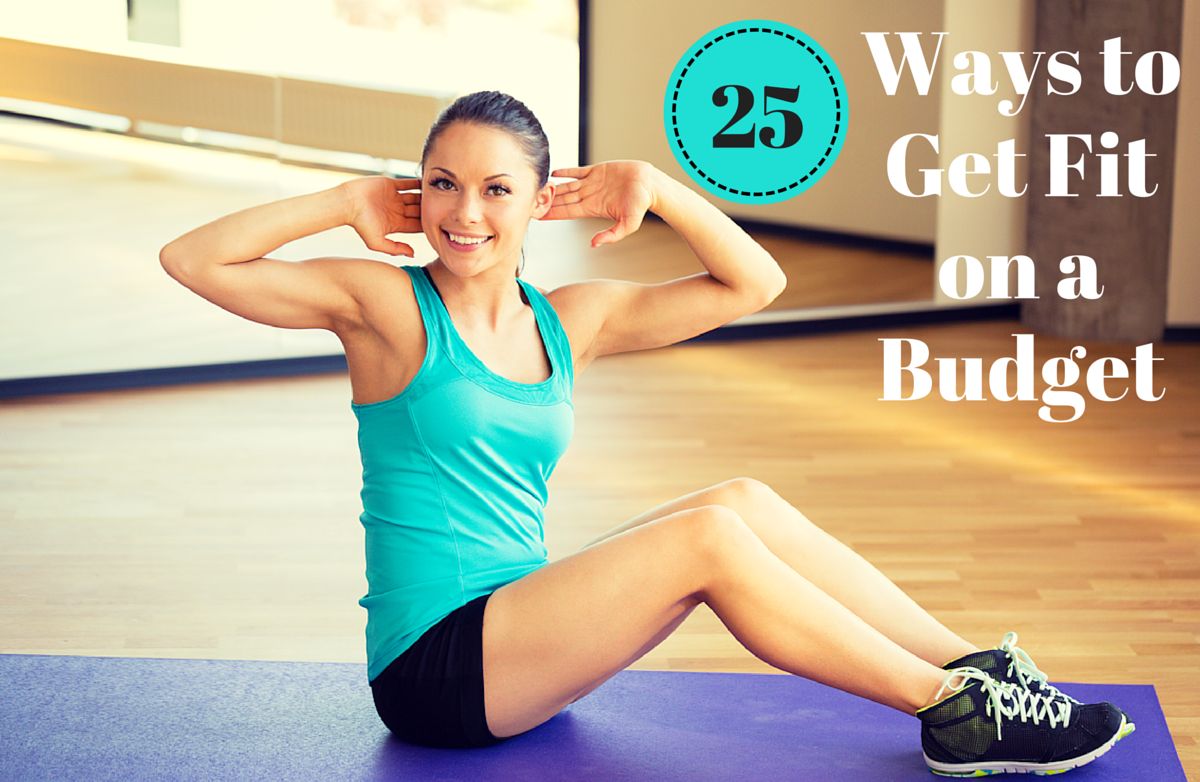 Everyone's holding their wallets and purse strings a little tighter these days. But that doesn't mean that you have to give up on getting fit just because times are tight. Exercise can be easy to fit into your day, just as it can be inexpensive, even free! Check out these 25 ways you can get fit for less than $25. Whether you're just getting started or want to refresh your routine without going broke, there's something for everyone!


1. Resistance band (or tube) $15 This is by far the most versatile piece of equipment you can buy. I've long touted the benefits of bands, which you can use to strength training every single muscle in your body, whether you're a beginner or advanced exerciser, at home or on the road. Watch this video to learn more.

2. SparkPeople's free workout videos $0 We're constantly adding to our library of online workout videos, which give you precise instructions and options to make every workout easier or harder to fit your level. You'll find strength, aerobics (cardio), Pilates, flexibility and more so you can constantly change up your routine without spending a dime on new workouts.

3. Walking and running $0 Provided that you already have a good pair of shoes, walking and running are great ways to fit in cardio—you don't have to fight the crowds at the gym (let alone pay for a membership), and you can adapt your routine in distance, time and speed as you get more fit. Need ideas? Get walking workouts and running programs from SparkPeople.


4. Pedometer $15-$20 Studies show that when people wear a pedometer, they tend to take more steps throughout the day. A pedometer can be a really motivational tool, allowing you to set goals (aim for 10,000 steps per day) and try to increase your steps over time. If walking alone doesn't sound fun to you, this little gadget just may provide the motivation you need.


5. Gliding discs $20 You may have seen these discs at the gym or on TV. They are a fun way to add new exercises to your strength training repertoire, and most discs come with a pamphlet with instructions and exercise ideas. Of course, you'll need more than gliding discs alone to get in shape, but if you're looking for something new that doesn't break the bank, they can be a fun option. You can also you paper plates as a free substitute for commercial discs.

6. Library $0 Believe it or not, your local library provides lots of fitness options, from DVDs to VHS tapes and fitness books. Use your library to try new fitness DVDs all the time! You can switch as often as you'd like, which is a great way to avoid a plateau.


7. Stability ball $15-$20 Like resistance bands, stability balls (also called physio, Swiss or exercise balls) are extremely versatile. They can be incorporated into cardio routines, yoga, Pilates, stretching, and of course, full body strength training (whether used alone or in combination with bands or dumbbells). Here's an introduction to using the ball, which also links to workouts and fitness ideas.

8. SparkPeople's Workout Generator $0 Our Coaches have designed over 100 strength training workouts for every fitness level and goal. Whether you have no equipment at all, or use of small items like dumbbells, you'll find plenty of ways to reach your goals (and easily track your workouts) using our Workout Generator.

9. DVD $5-$20 If you prefer to exercise at home, fitness DVDs are always a great option. Some are better than others, so always read reviews from other consumers (check out Amazon.com) before you buy. You can get them cheaper by buying used whenever possible. When you get tired of your own DVDs, sell them to someone else who wants them and put that money towards a new title.

BUY IT!

SparkPeople's new Cardio and Strength DVDs feature 10-minute workouts you can do at home!

10. Pilates or yoga session $10-$25 Even without being a member, most gyms will let you pay to take classes. If you're looking for new workout ideas or just to try something new, you could spend your $25 on a single group or semi-private yoga, Pilates or Pilates Reformer session with an experienced instructor. A splurge like this could also be a fun way to reward yourself monthly or semi-annually for all your hard work!
Continued ›