10 Products Designed to Eliminate Fitness Frustrations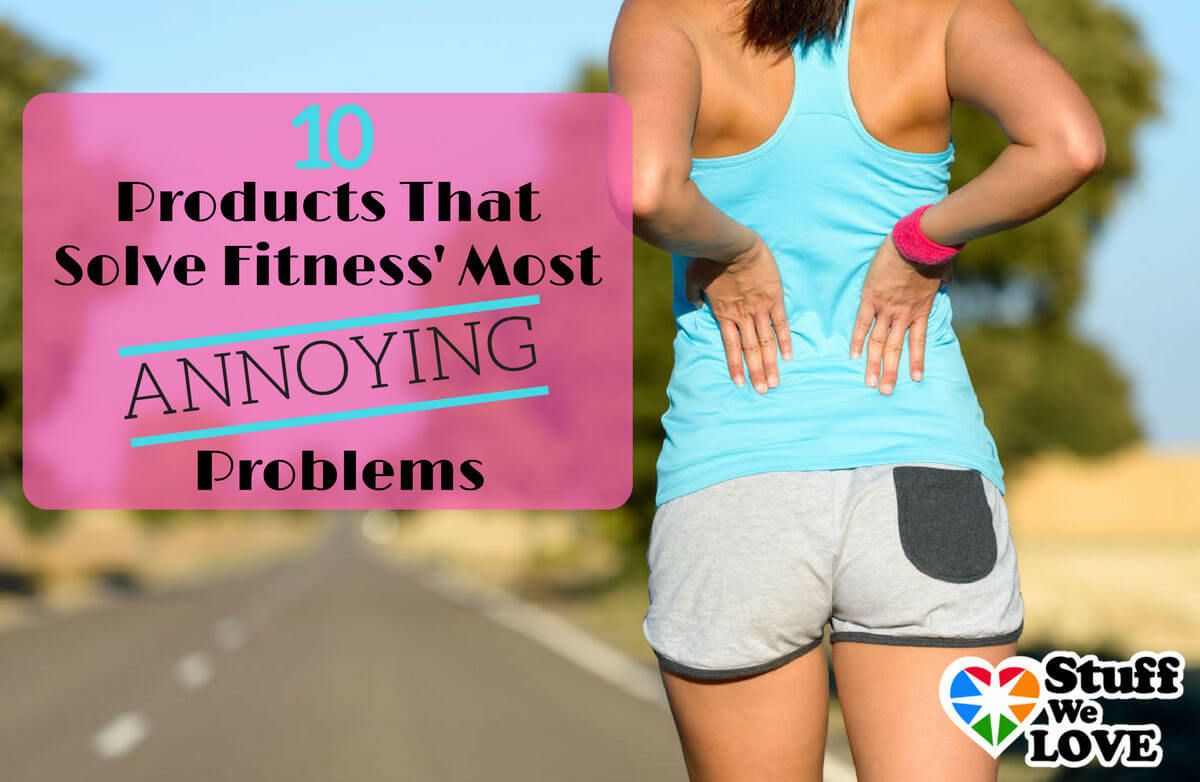 Sometimes putting forth the effort to work out can seem like a workout in and of itself. You set your workout clothes out the night before, pack your bag for the gym and set the alarm for a time that allows you to sleep until the last possible second yet still squeeze in a good workout and a shower.

When you finally get your exercise routine down, you don't want to deal with other annoyances that can come with the territory such as chafing, slippery gym floors, earbuds that pop out with every step of your run or an aching back that comes from too many deadlifts. You want to leave your workout a slightly sweatier version of the way you entered it, locked, loaded and ready to tackle your day.

Thankfully, there are a host of tools and accessories available to help keep your earbuds secure, your feet steady, your legs lubed and your back knot-free. You work hard for your health—why not treat yourself to a few products that make your workout a little more comfortable?

Earphones that Stay Put Through Every Sweat Session
EarSkinz EarPod Covers, $10.95



Photo courtesy of Amazon.com

EarSkinz are ergonomic, so they'll fit comfortably and stay put, whether you're walking your way through a series of hills or running your first half marathon. Available in nine colors, these little beauties not only remain in your ears but also enhance the sound quality of your favorite workout tunes with acoustic clarity and a heightened bass range.

Hair Ties That Promise to Hold Through Thick (and Thicker)
Scunci Effortless Beauty Thick Hair Elastics, $3.49





Photo courtesy of

Amazon.com

Struggle no more with thin elastic ponytail holders that either stretch out after a few uses or pull and break your hair. These thick hair holders are metal-free and won't damage your 'do during the most daunting strength training session.

For that Hard-to-Reach Knot on Your Back, Shoulder or Neck
Body Back Buddy Trigger Point Therapy Tool, $29.95




Not everyone has a masseuse at the ready, and not everyone who thinks they are a masseuse is any good at it. Lightweight yet sturdy, the 11 therapy knobs on the Body Back Buddy can help relieve tension from chronic pain or stress from overdoing it at that aerial fitness class. "I love it for working out knots in my back and shoulders that I couldn't otherwise reach without help from a friend," Mike Honkomp, SparkPeople's ad operations and yield director says.

Say 'Goodbye' to Painful Chafing
Body Glide Anti-Chafe Balm, $9.99





Photo courtesy of

Amazon.com

Few things are as uncomfortable as discovering your skin is chafing during exercise—except maybe when you discover it in the shower later. Prevent unwelcome skin-to-skin (or clothing-to-skin) contact by applying this balm over, on or between problem areas before your activity begins. Without the threat of chafing, you'll be able to enjoy all your favorite fitness sessions without distraction.

Socks That Help You Stay Through 'Namaste'
Gaiam Toeless Yoga Socks, $19.99

If your best friend complains after every yoga class that stability and balance are not her forte, maybe her socks (or lack thereof) are to blame. Instead of worrying about slipping and sliding through downward dog, focus on building her core by recommending these helpful toeless yoga socks. The open-toe design allows you to feel the floor for balance, while the grip keeps the rest of your foot stable.

A Soothing Scrub for Sore Skin
Sea Salt Zum Scrub, $12.95





Photo courtesy of

Amazon.com

Sometimes spinning can leave you a little sore in the, uh, saddle, and running in the cold and windy weather can wreak havoc on your otherwise supple skin. The soothing scent of Zum's essential oils combined with the gentle scrubbing of sea salt leaves your skin feeling smoother and more rejuvenated. Plus, the smell lingers long after your shower has ended, keeping you calm and peaceful throughout the day.

Keep Your Traction When in Action
Yaktrax Traction Cleats, $38





Photo courtesy of

Amazon.com

If the threat of winter snow and ice or otherwise slippery conditions keeps you from enjoying your favorite outdoor activities, there's a solution for that. Yaktrax are made of replaceable steel spikes and coils that fit right over your running shoes so you can count your steps and not your slips.

Because Everyone Needs a Self-Five
"You Are Doing a Great Freaking Job: and Other Reminders of Your Awesomeness," $7.01





Photo courtesy of

Amazon.com

This fun, colorful book is perfect for when you need a little encouragement on those days you find yourself without someone around to give you a pat on the back or you exhausted your supply of self-rally cries yesterday during that grueling Zumba class. Full of nearly 200 inspirational quotes, this pocket-sized book is as beautiful to look at as it is motivational. Put down the Magic 8 Ball and find a mantra to add a pep to your step when you need it most.

Dry Storage for Your Wet Suit
Itzy Ritzy Wet Bag, $12.31





Photo courtesy of

Amazon.com

If you enjoy taking your workout to an indoor pool, but hate the wet clothes you have to bring home with you, this lightweight, waterproof travel bag can keep your suit separate and your bag free of any musty smells from moist clothing.

Be Free of the Microfiber Funk
deFUNKit Odor Control Detergent, $20.50

Do your partner's workout clothes refuse to smell clean even after repeated washings? Instead of throwing in the towel try throwing in some high-performance detergent. DeFUNKit's active wash removes persistent funky gym clothes smells so you can wear your favorite workout shirt again and again.

Which products do you use to solve annoying fitness problems?

We hope you love these products as much as we do! SparkPeople may collect a small percentage of revenue from the links on this page.





You will earn

5

SparkPoints

Like what you read? Learn more

about SparkPeople,

or

sign up

for your free account today!
Got a story idea? Give us a shout!