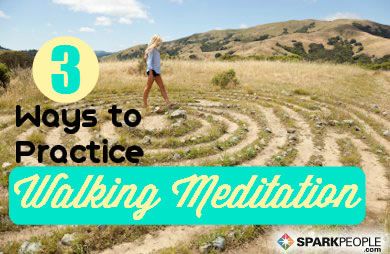 The word "meditation" is likely to conjure up a mental image of a cross-legged person sitting still in a quiet, peaceful room. While this is the method of choice for many who meditate, others choose a more active route to mindfulness. It's called walking meditation, and by doing it, you get to enjoy the benefits of walking (health and endurance) and meditation (awareness and mindfulness) simultaneously. Think of it as Zen and the art of multitasking.

Meditation of any type is simply a process of developing greater awareness and mindfulness. One of the main benefits of cultivating these qualities is that you become more content and fulfilled—the desire to reach outside of yourself (to material things, for example) to feel content or fulfilled diminishes. Besides this, there are other ways that meditation enhances health. It can also help:
Relieve symptoms of illness. A 2002 study reported in the Journal of Alternative and Complementary Medicine found that an eight-week mindfulness meditation program resulted in effective and lasting reductions in symptoms for participants with chronic illnesses.
Reduce high blood pressure. A year-long study, reported in the American Journal of Hypertension showed that daily meditation lowered blood pressure more than relaxation techniques and information about lifestyle changes. Read more here.
Relieve stress and improve mood. A study published in the February 2007 edition of Annals of Behavioral Medicine reported that while both mindfulness meditation and other relaxation interventions can both reduce distress and improve positive mood states, meditation may actually be more effective—especially at reducing distractive and ruminative thoughts and behaviors.
These general benefits of meditation can be applied to walking meditation too. In fact, many practitioners say that walking meditation actually helps them achieve even greater awareness than conventional meditation, and that it's even easier to reach a state of mindfulness and awareness while walking, as opposed to sitting still. And by combining meditation with physical activity, you're burning calories and getting fit at the same time.

The premise is pretty simple. In walking meditation, the act of walking is your focus. Instead of thinking about your best friend's birthday party that you just attended, you think about the present experience of walking.

There are actually several ways to practice walking meditation (three examples are outlined below). You can try each to see which you prefer, or you can alternate between them whenever you choose.

Walking Meditation #1: Focus on Your Feet
This technique is very simple, making it great for beginners. In this method, the focus is your feet as they touch the ground. Your eyes are aimed a few steps ahead, and your mind is cleared of all thoughts and emotions extraneous to your keen awareness of each foot, as you place it on the ground. With each step, you focus your attention only on the contact of your foot with the ground, and when your mind wanders from this focus, you bring it back to your foot. You could actually practice this form in your own backyard, or even indoors, as you can walk in a circle or back and forth in a line.

Continued ›
Article created on: 7/10/2007