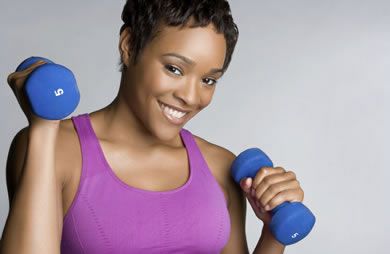 It's a classic question with no right or wrong answer. If you want an effective strength training workout, should you use free weights or machines? Which option will help you reach your goals? SparkPeople's Fitness Experts voice their opinions on this hot topic.


As a certified personal trainer, I always recommend that people try to include both free weights (dumbbells) and machines in their strength training workouts. Here are some of the advantages of using machines:
They are easier to use (proper technique, form, etc.).
They better isolate one muscle for a more intense workout.
They ensure that you move with proper form through the full range of motion.
They allow you to lift heavier weights.
They reduce workout time (less time spent setting up, changing, and putting weights away).
You are less likely to injure yourself when using machines.
The disadvantages of using machines are directly related to the advantages. Most of the things we do in daily life involve using multiple muscles and joints at the same time. Because machines isolate muscles and work them separately, you end up making individual muscles stronger but aren't training yourself for "functional fitness." Likewise, because machines are adjusting, balancing, and supporting your body, the smaller muscles that would normally do these tasks in real life often don't get exercised or strengthened.

But by incorporating both free weights and machines into your workouts, you can utilize the advantages of both and avoid the limitations of relying on either one by itself. For example, try doing one chest exercise using a chest press machine, and then add a couple sets of dumbbell flies; use the leg press machine to maximize the amount of weight you are lifting, then add a couple of sets of walking lunges with dumbbells, for balance training.

If you find the idea of using the free weights in the gym too intimidating, most gyms have a "cable cross" machine that offer many of the benefits of free weights with the convenience and safety of a machine. Ask a staff member to help you find it and figure out how to use it or check out some of SparkPeople's Cable Cross demos.




The Case for Machines
Machines are great if you're new to strength training or unfamiliar with how to target specific muscles. Most will have instructions and a diagram so that you can see how to use them properly. It's also easier to maintain proper form using a machine because the equipment is designed to support your body as you do the exercise. Machines are good choices if you don't have much time (assuming there's not a crowd of people waiting), as it can be quicker to adjust the weight on a machine than with free weights. Sometimes people are intimidated to try strength training because they aren't sure what to do, but machines can help overcome that barrier since they are so user-friendly. The negative is that machines do not give the variation or range of motion that free weights provide. Most machines have a two-dimensional movement pattern.

Continued ›
Article created on: 6/17/2008