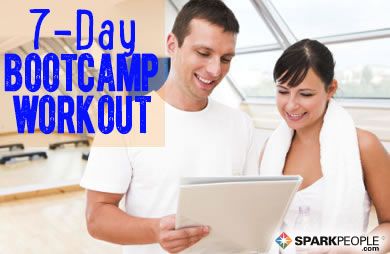 Whether you're getting bored with your usual workout routine, or you are ready to jump start your fitness program, SparkPeople's 7-day Bootcamp Workout Plan can help you get real results! I created this 7-day workout plan for people of all fitness levels. It's called "Bootcamp" not because it's highly intense, but because it involves daily exercise and commitment. That may sound daunting, but each workout can be tailored to your own fitness level, and you also get to pick activities that you enjoy.

How it Works
Do one video (below) each day. Each video will only take you 10 minutes or less to complete. For some of the videos, you'll need dumbbells (but if you don't have any, you can improvise with some easy-to-hold household items like soup cans or beverage bottles). If you want to work harder or increase the intensity, use a heavier weight and/or repeat the video one or two more times.

Do five 30-minute cardio sessions per week. You pick the activity and intensity and anything goes! (Get over 110 cardio workout ideas here!) You can walk, bike, jog, jump rope, swim, do a fitness class or video—anything that gets your heart pumping! The more variety, the better! If you're new to exercise, aim for 30 minutes (or as close to that as you can manage, gradually increasing over time). If you've been at it a while, go longer—up to 60 minutes per session.

Follow the plan for 4 weeks. Four weeks of daily exercise is no small feat! This a great introduction to exercise if you're just starting out, since the videos make strength training easy with detailed instructions on form. But even if you're an avid exerciser, following this plan for a few weeks can add variety to your current program, which can help you bust a plateau and continue seeing results.
Refer to the chart below for the 7-Day Bootcamp Workout Plan . (Click on each link to see the video, a printable version, and to add it to your Fitness Tracker!)



Continued ›
Article created on: 6/3/2008