Shakira didn't get those world famous abs without dance, which, on its own, is enough to sell us on dancing our way to fitness. Whether it's Zumba, belly dance or just getting down at a wedding, dancing is a legitimate aerobic exercise that burns major calories. You'll work muscles you didn't know you had and get your blood flowing, while simultaneously reducing stress and improving your posture. Still on the fence? Consider this:
A dance step counts toward your daily step count
Dancing is good for your heart
You could burn as many calories as popular forms of exercise, including swimming or riding a bicycle.
To get you started and to celebrate National Dance Day (the last Saturday in July), we've compiled some of our favorite articles and videos that showcase the benefits of adding dancing to your workout schedule. Put on some Britney, Beyoncé, a Bollywood beat, Blondie or whatever it is that gets you moving, and start dancing your way to a healthier you today.
The Most Fun You'll Ever Have Burning Fat
Before you get started, educate yourself on the many benefits of kicking up your dancing shoes. You might be surprised by how much your body appreciates a good dance party.
14-Minute Cardio Dance Workout
If your only taste of Bollywood and Indian dance is the credits sequence of
Slumdog Millionaire
, you are truly missing out on a colorful and fun tradition. Familiarize yourself with the high-energy dance form with this intense—but so fun!—cardio workout.
16-Minute Bollywood Cardio Workout
If every form of exercise was this much fun, we would have no problem working out every day! Work your hips, abs and more in this enjoyable workout led by fitness star Hemalayaa.
All About Zumba
For many people, Zumba, the popular Latin-inspired exercise class, put dance fitness on the map. Your muscles aren't the only thing that will be sore after hitting a Zumba class—chances are your cheeks will get a workout from smiling as you dance the hour away.
5 Dance Moves Anyone Can Do
Even if you swear you've been cursed with two left feet, you'll still be able to master these dance moves. Get an introduction to the vibrancy of Cuban Mambo as internationally acclaimed choreographer Kimberly Miguel Mullen leads you through five basic moves.
Proof You Can Be a Talented Dancer at Any Size
If the thought of dancing makes you cringe with embarrassment, here's a fun reminder that you don't have to be a stick-thin principal ballet dancer to twirl your way around the dance floor.
Like us, our friends at Acacia are also dance fitness advocates and have the high-energy workouts to prove it. Check out some of their online exercise videos and DVDs for more dancing that will challenge your muscles and your stamina.
AcaciaTV
Everyone can be a part of National Dance Day, right in their own living room, thanks to AcaciaTV's large selection of dance workouts. For a fun sweat that will never be boring, check out the
Dance and Be Fit
series, which includes Latin-inspired moves, hip hop cardio and more.
Shazzy Fitness DVDs
Inspirational music fuses with hip-hop beats in two new DVDs from Shazzy Fitness,
A Time to Dance
and
In the Beginning
. Led by professional dancers, including two former NBA Atlanta Hawks A-Town Dancers, the DVDs include multiple 10-minute workouts that allow you to mix and match each day. Stream the workouts at home for a family-friendly dance workout that will energize the body and elevate the spirit.
Suzanne Bowen Fitness
Fitness and lifestyle expert Suzanne Bowen takes the ballet-inspired barre workout to the next level with her BarreAmped DVD series. Combining dance, Pilates, yoga and her own training methods, Suzanne's unique style and challenging sequences offer a full-body workout for anyone, including pregnant moms. In addition to
BarreAmped Sleek & Toned Prenatal Workout
for pre- and post-natal fitness, dance fans can also purchase
BarreAmped BOOT CAMP,
the original
BarreAmped, BarreAmped Cardio Fat Burn
or
stream workouts online
.
Feeling ready to get down? Tell us: Which dance exercise do you love? Or, which ones would you like to try?
AcaciaTV
is a leading subscription-based streaming fitness service easily accessible on a variety of platforms/devices. Members have complete access to more than
100 workouts
in a diverse range of disciplines which they can stream anywhere at any time. AcaciaTV now features new themed 20-minute workouts each month from trainers
Kristin McGee
,
Amanda Young
,
Deazie Gibson
,
Gerren Liles
and
Liz
LeFrois
. Consumers can visit
Acacia
TV at
US.Acacia.TV
and easily try out the service with its 10-day free trial. The channel is for all fitness levels, offering workouts from beginners through advanced. Subscription to the service includes access to AcaciaTV's Facebook fitness community which offers additional support and a group forum for all members.
SparkPeople members can receive 25% off any membership for a year with the code ACACIASPARK.
Read More ›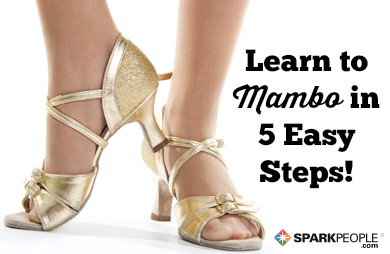 Dancing is one of the most enjoyable exercises you can do to be healthy and ecstatically happy while getting fit and losing weight! Dance is fun and exciting, and you're always learning something new and interesting. All you need is your two feet and your favorite music. The best part is that there is no prior experience necessary! The more you dance and the longer you do it, the better it feels and the more skillful you become. Not only can dance workouts can burn up to 1,000 calories in one hour, but dance also builds stamina, strength, agility and flexibility. Dance also helps to lower blood pressure and cholesterol, promotes a healthy immune system, and can even help you sleep better and reduce the symptoms of depression. Try it and see for yourself how good you feel after! Here are some simple and fun dance moves for everyone to try at home.
Read More ›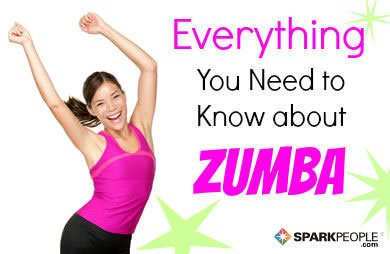 Editor's note: You've been asking about Zumba for a long time, so we are happy to share this guest blog post from one of our favorite bloggers. Gina, otherwise known as The Fitnessista, is not only a HUGE fan of Zumba, but she's a Zumba instructor and former dancer as well. She was happy to write about her favorite form of aerobics for the dailySpark.
Hi, everyone! My name is Gina and I write over at a little blog called
The Fitnessista
. On my blog, I write about fitness tips, nutrition advice, recipes, workout routines and my daily shenanigans. Determined to experience a negative "freshman 15," I lost 40 pounds about 8 years ago and have since then become a personal trainer and group fitness instructor. My favorite class to teach, by far, is ZUMBA!
So, you may have heard about
Zumba
or you might be wondering what the heck it is.
Read More ›
I remember the first Zumba class I ever set foot in at my university's recreation center. The instructor was so full of energy that it made me a little uncomfortable, and the room was jam-packed with girls (and a few guys!) shaking their hips and laughing over pulsing Latin and hip-hop beats. When the first song started, I anxiously wondered what I had gotten myself into and thought about planning an exit strategy. But when the class ended, I was drenched in sweat and grinning like an idiot, in disbelief that an hour had just flown by. After years of being a slave to the elliptical machine, I walked out of that class feeling like I had just had a major fitness revelation:
Working out could be both productive and fun
! Some people feel this way about running, or lifting weights, or yoga. For me, at that time, Zumba was
my thing
. It was the spark that made me start to view exercise as a hobby rather than a chore, and I credit it for helping me to see the fun in other forms of fitness over time.
Since that class five years ago, I've taken Zumba more times than I can count, with about a dozen different instructors. I've taken some amazing classes, some sub-par classes, and some downright miserable classes (FYI: if you try Zumba for the first time and hate it,
take it again with another instructor
. It makes all the difference!). I thought I had experienced all of the possible facets of Zumba—until Zumba sent us a free Zumba Fitness Exhilarate DVD set to review and Coach Nicole let me do the honors.
The Zumba DVD experience is definitely a different animal. I was a little hesitant at first, unsure of how a live class would translate into a home DVD format. So did Zumba's at-home DVDs deliver the same fun and intensity as my classes? Did I really burn 1,000 calories per hour like their commercials claimed I could?
Read More ›
So you think you CAN'T dance?
Do you feel like most workouts don't work for your size or physical limitations?
Or maybe you simply don't like to follow structured workouts like classes or DVDs?
I promise you that this DVD will change that.
It's the most innovative workout I have ever seen. Ever.
I don't use those words lightly, and I've never used them before today.
Misty Tripoli's
Body Groove: Delicious Dance
DVD belongs in every exerciser's collection. Whether you love to dance or hate it. Whether you're super fit or just starting out. Whether you have mobility issues, physical limitations, or are the epitome of health. Every single person can enjoy and benefit from this DVD. Find out why everyone who has tried it at SparkPeople loved it so much—including one tester who (formerly) hated dancing and workout DVDs in general!
Read More ›
Barre workouts are HOT, and this workout trend doesn't seem to be going away anytime soon. Once available only in posh gyms and exclusive studios, barre workouts are not popping up in big box gyms across the country, and they are as varied in their moves and styles as their instructors and branded names.
What I love about the barre workouts and DVDs I've tried is the variety. I've been doing strength training since I was in middle school, and quite frankly, it gets boring to me over time. So for me, a barre workout is a new and different way to strengthen and challenge my body that isn't the same old stuff I've done for years. Plus, barre workouts are infused with so many of the
elements of Pilates
(my favorite workout of all time), like core engagement; lengthening of the limbs, spine and muscles; control and precision. I love these things about Pilates; they allow you to constantly push yourself to a new level of mastery, and forget about your day because you're so focused in the moment.
Acacia recently sent me one of their barre DVDs, Xtend Barre®: Lean & Chiseled ($12.49,
amazon.com
). This 55-minute DVD is the creation of
Andrea Rogers
, a professional dancer and choreographer turned Pilates and fitness instructor. Find out if it's right for you.
Read More ›
As many times as I've received requests to create a cardio dance video, I have to assume that our readers love dance workouts. I do, too, but unfortunately, I'm not very good at creating or leading these types of workouts. I danced throughout my childhood and I still miss it as an adult, so I rely on cardio dance DVDs to get my dancing fix. Sometimes
they can be disappointing
. Other times
they're too advanced
. It isn't easy to strike the perfect balance of teaching fun dance moves without going over most people's heads, so I applaud those fitness instructors (or dancers in some cases) who can do it right.
Recently, I received a package from the folks at
10 Minute Solution
. They make a wide variety of workout DVDs— toning, cardio, Pilates and more—that each include five 10-minute workouts, allowing you to choose a short workout or a longer one. Their DVDs have impressed me 95% of the time in terms of quality instruction, value, and workout variety. (So far, the only title I've tried that I would not recommend is their
Kettlebell Ultimate Fat Burner
, but we won't go into that here.)
Two newer releases of theirs impressed me all over again. If you're looking for fun, short cardio dance workouts that you can actually keep up with, look no further.
Read More ›
The Biggest Loser
, NBC's weight-loss reality show, is a hit.
So is FOX's dance show,
So You Think You Can Dance?
Now Oxygen has a show that seems to combine them both. Contestants compete in both dance and weight-loss challenges each week on the show
Dance Your A** Off
. The winner will take home $100,000!
I just watched a sneak peek on the
Oxygen website
:
Trice shows her new, professional dance partner what she can do. The 23-year-old breaks out into the splits and busts moves I've only seen in music videos! Did I mention that she weighs 274 pounds? She's impressive! I can't wait to see more.
Will you tune in?
Read More ›
I am sure many of you have been initiated into the Dance Dance Revolution (DDR) or Nintendo Wii Fit craze that has swept through the country over the past several years. If you haven't been exposed to these games then just ask your kids or grandkids. More than likely they have had some contact with these games at a friend's house or maybe even at their school. In fact this past year the
West Virginia school system
has integrated DDR into their physical education curriculum to help kids get fit.
Read More ›
Britney Spears is making a comeback! After a couple years of—well, we won't get into that here—she's back on top with new music and an improved look. But Britney's reshaped body hasn't come easy. She's been frequenting the gym, working with a trainer, hitting the dance studio, and, as you'll soon see: strength training. In a newly released video on her website,
www.BritneySpears.com
, she shows off some of the moves she's using right now to tone up at home.
Read More ›
UPDATE: The men are defending themselves and said their comments have been taken out of context. Read on to find links to their explanations!
We recently debated the hypocrisy in the media when it comes to a star's weight. Cheryl Burke's recent weight gain made the two-time
Dancing with the Stars
champion a tabloid favorite. Now a fellow female dancer, Lacey Schwimmer, is also coming under fire for having gained a few pounds over her summer break.
The source
of the latest criticism of both ladies' figures: their male counterparts on
DWTS
.
Read More ›
I am a huge fan on ABC's "Dancing with the Stars" TV show! So when I heard about their first cardio dance DVD (back in 2007), I was so excited. But sadly, it got some
poor reviews
, so I didn't bother buying it. Fortunately for me, a new one just came out a matter of days ago, so I jumped on the chance to try it out, hoping that the producers might learn from the mistakes of the first one and make a better workout the second time around. I tried it out at home last week, along with my best friend. Want to hear what I thought about it?
Read More ›
Way back in the day, I used to not only be a dancer, but I used to think that I'd be a professional dancer—it was my dream as a young girl to be on Broadway. But things got in the way, as they often do, and other things took priority in my life—school work, competitive athletics, and social activities throughout my teens meant that dancing lessons and performances hit the back burner. But my love of dancing in general has never waned!
I recently heard about a fairly recent workout DVD release:
Jamie King's Rock Your Body
($14.99 on amazon.com) and was intrigued. Although it's been years since I've danced formally, taken a class, or learned a routine, I knew I'd have to check this one out. Want to hear what I thought about it?
Read More ›