What We've Been Eating: New Foods to Try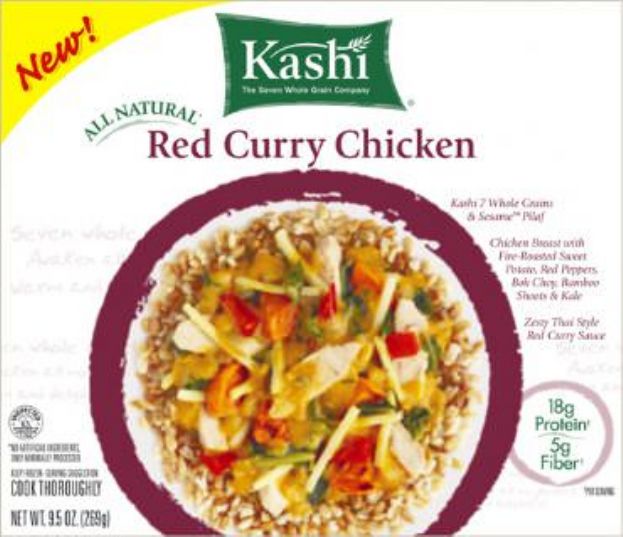 With all that's been going on around the office lately, we haven't had much time to review many new supermarket foods. But one of my New Year's resolutions is to find more time to try new products and pass the good ones along to all you wonderful, hungry readers.

Recently, we tried a few good new products that companies sent us.

Red Curry Chicken and Veggie Chana Masala from Kashi's Ethnic-Inspired Entrees line:
Kashi sent us a case of each, which surprised us. However, after tasting these, we were ecstatic that they sent so many. These are some of the best frozen meals we've ever eaten! They both tasted more like take out than a frozen meal. They're on par with the Amy's line in terms of quality and taste. We gobbled down those two cases in a week or so. The meals were spicy but not hot--and full of flavor. We might have asked for a few more vegetables (we think all frozen meals skimp on the veggies), but Kashi offers a wider, fresher selection of veg than other brands.

What they say: "Veggie Chana Masala is topped with tangy garam masala sauce with chickpeas, red peppers, fire roasted eggplant, carrots and edamame, while Red Curry Chicken combines zesty, Thai red curry sauce with fire roasted sweet potato, bok choy, red peppers, bamboo shoots and kale."

Red Curry Chicken Nutrition


Veggie Chana Masala Nutrition



Find more info here.

Odwalla Chocolate Chip Trail Mix bar
These Odwalla bars are the offspring granola bars and trail mix. The bars are filling enough for a light breakfast and light enough for a pre- or post-workout snack. They have just enough chocolate to satisfy a sweet craving, but they've got enough other good stuff to not feel like you're eating a treat. We will eat almost any bar that is sent to us, and this one is in the middle in terms of taste and price. (We'd give it a 7.) The bars are $1.39 each.




What they say: "Odwalla has taken the very best chocolate chips and masterfully mingled them with rolled oats, peanuts, raisins, coconut, and sunflower seeds in its new Chocolate Chip Trail Mix bar… As with all Odwalla products, Chocolate Chip Trail Mix bars contain no artificial flavors, colors or preservatives, so you can enjoy them and feel good about it at the same time."




Find more info here.

Annie Chun's Rice Express Black Pearl Rice and Multi Grain Rice
Annie Chun's has sent us a few different products, but we've had to turn down offers to review them due to sky-high sodium levels. (Soy sauce is usually the culprit.) While the products are tasty and convenient, I didn't dare review a product that has almost 50% of your daily sodium recommendation in one serving (half of the container), now did I? Then, Annie Chun's sent us some of their heat-and-eat rice bowls.

These, we liked. Though they're pricey, it is very convenient to have a variety of whole-grain rices ready to eat in just a couple of minutes. We tried two varieties, and we liked the nutty, fresh flavor. Both were a nice change from plain brown rice.

We also love the Annie Chun's Sushi wraps!

(Suggested Retail Price: $2.99 for 6.3oz)




What they say: "Black Pearl Rice is one of the most exotic of the dark grain rice varieties. Once reserved solely for the emperors of ancient China, this complex, medium-grain rice was revered for its bounty of nutritional qualities. It's rich in amino acids and high in vitamins and minerals such as iron, potassium and magnesium."

"Annie Chun's flavorful and wholesome Multi Grain Rice is a unique combination of Sprouted Brown Rice, Black Pearl Rice, Millet and Indian Millet."




Find more info here.

Have you tried these foods? Will you? What products would you like us to review?



You will earn

5

SparkPoints

Like what you read? Learn more

about SparkPeople,

or

sign up

for your free account today!
Got a story idea? Give us a shout!