Veg-Friendly Thanksgiving Recipes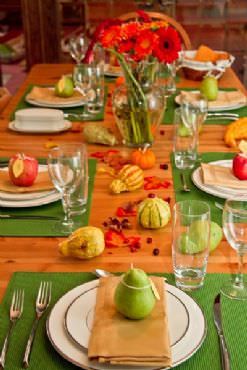 Editor's Note:
Did you know that SparkPeople was home to almost 250,000 vegetarians and vegans? It's true. In addition, 4% of Americans are either vegetarian or vegan, according to a Vegetarian Times survey, and up to 10% of Americans follow a partially vegetarian diet. That said, this Thanksgiving, we wanted to highlight some vegetarian recipes.

(Have you tried Chef Meg's new, healthy Thanksgiving recipes? Find them here.)

I reached out to my friend and fellow blogger, Angela, for some vegetarian and vegan recipes that would have mouths watering!




Hi, I'm Angela Liddon from Oh She Glows, Green Monster Movement, and Glo Bakery. I'm a vegan bakery owner, healthy living writer, and photographer who found her glow with a vegan diet. Oh She Glows documents how I got my glow back, after years of depriving myself, and discovered that food can be fun. I tempt with delicious vegan recipes and mouth-watering photography.

One of the most surprising things about being a vegan is that I can re-create my favourite recipes with vegan ingredients and the food still tastes wonderful, if not better than the original versions! My family and friends are always shocked when I tell them that the dish is vegan, whether it is a main course, appetizer, or dessert.

Sure, I have had my share of baking flops that have been well documented on my blog, but when I do successfully transform a recipe, there is no better feeling.

When I am asked if I feel deprived being a vegan, I have to smile. As a vegan I experiment with many more foods than I ever did before. My dinners used to consist of potatoes, chicken, and vegetables and now I rarely eat the same meal twice. Being a vegan has forced me to be creative in the kitchen and discover foods that I might not have tried before.

This year was my first Vegan Canadian Thanksgiving that I put together for Project Food Blog. Every single thing that I served was vegan and many of my guests commented that it was the best Thanksgiving meal they have ever had.

Today I am going to share with you the favourite dish from the meal and then I will link to the rest of the Thanksgiving recipes below. I hope you will enjoy them as much as we do!



This Ain't Grandma's Sweet Potato Casserole

Ingredients:



4 large sweet potatoes, peeled and cooked
2 tablespoons Earth Balance margarine (or other vegan, non-hydrogenated margarine)
1 teaspoon vanilla extract
5 tbsp pure maple syrup
1/2 teaspoon sea salt
3/4 teaspoon freshly grated nutmeg
3/4 teaspoon cinnamon

Topping:

1/4 cup margarine
1/2 cup Sucanat (or brown sugar)
1/3 cup spelt flour

Directions:

Preheat the oven to 350 F and lightly grease a 2 quart casserole dish with canola oil. I wipe a bit on with a paper towel. Peel and then boil sweet potatoes until tender. Mash the sweet potatoes with the margarine until smooth. Add the milk, vanilla, maple syrup, sea salt, nutmeg and cinnamon. Pour into casserole dish. Next, mix the topping ingredients together until well-combined. Sprinkle topping mixture over the casserole and bake for approx. 50 minutes, checking it every so often. Serves 7-9.

Find the full nutrition info for the recipe here.

If you are interested in my other vegan Thanksgiving menu items, please click here for the original post. It includes all the recipes for the menu below as well as tips on how to create beautiful Thanksgiving decor on a budget.

Happy Thanksgiving!



Editor's Note:
Looking for more vegetarian and/or vegan main dishes for Thanksgiving? Some companies that provide tasty turkey-free "roasts" and meals are Field Roasts, Tofurky, and Five Star Foodies. No matter what I serve, I always pair it with vegetarian gravy. Do you have any vegetarians or vegans coming to Thanksgiving this year?



You will earn

5

SparkPoints

Like what you read? Learn more

about SparkPeople,

or

sign up

for your free account today!
Got a story idea? Give us a shout!