20 Products SparkPeople Members Obsessed Over This Year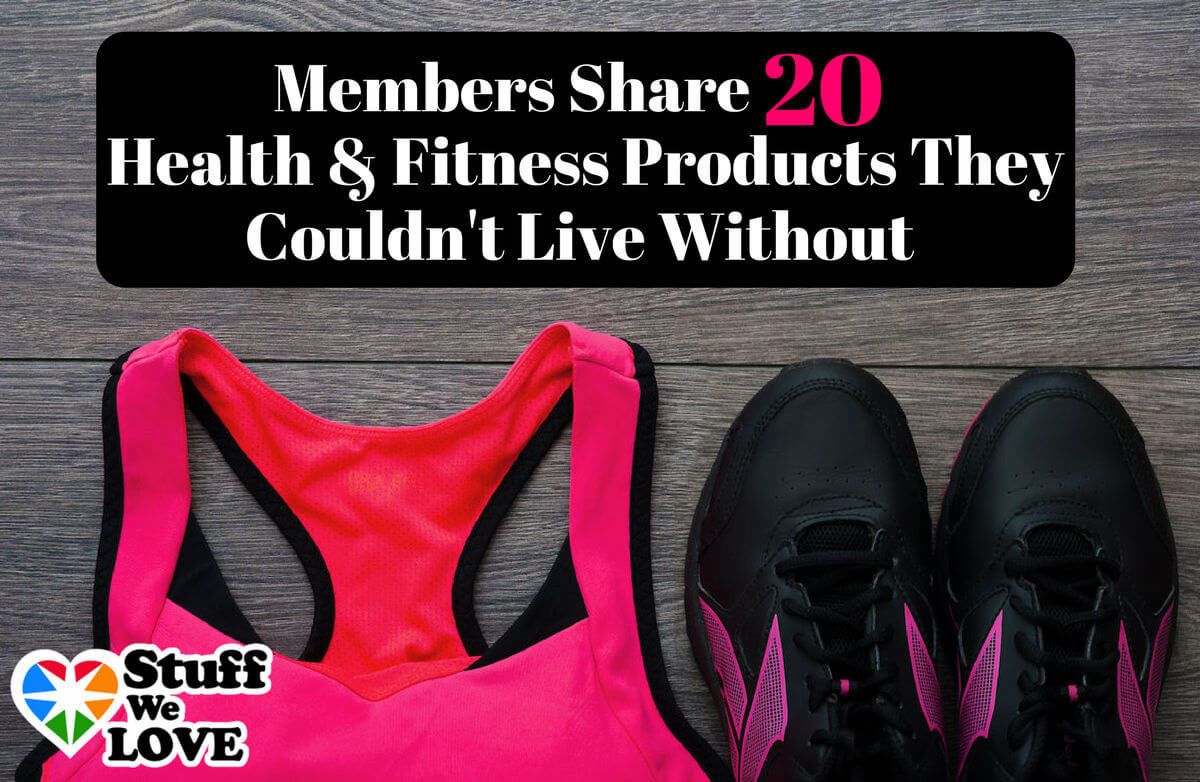 We asked and you delivered. From sports bras to blenders, heart rate monitors to training shoes, and everything in between, you let us know which health and fitness purchases from the last year have made living your healthy lifestyle easier. Our members are out there putting products to the test year round, and these 20 products all received gold stars and rave reviews from our members. If it makes you happy, then we know it will make our other health-conscious members happy, too.

1.Meal Prep Containers (Mealcon, $16.99)



Photo courtesy of Amazon.



"I purchased some meal prep containers with three dividers on Amazon that I love!" –Amy Breaux

2. High-Rise Compression Leggings (Old Navy, $26.94)

"[I love my] Old Navy high-waisted compression leggings. I have lost over 170 pounds and they keep everything tight with no jiggle. And they are reasonably priced." – Cherish Patterson

3. Food Scale (Ozeri, $12.22)

"[I] bought a new digital scale in 2016 [when] my old one died after it got wet. It is my most essential item for weight loss. No "estimating" on how much you're eating—you can track accurately!" – Janet Rogers

4. Training and Running Shoes (New Balance Vazee Transform and New Balance 680v3, prices vary)



Photo courtesy of Amazon.



"Two new pairs of shoes: a Vazee mesh (light and flexible) to wear with my trainer during strength training [and] a New Balance running shoe (more support) for when I do cardio on the treadmill." – Patricia Dzuagis

5. Resistance Loop Bands (Phantom Fit, $9.47)

"I started using this brand [of resistance bands] at physical therapy after knee surgery and continue those exercises and more in my workouts now." – Gloria Capetillo

6. Treadmill (LifeSpan, $1,415.01)



Photo courtesy of Amazon.



"When I starting researching treadmills, some were too big with too many features I wouldn't use; some were too flimsy to support my running miles and had few features. SparkPeople's suggestion of the one in your gym was just right. It fits nicely in the corner of my basement, lifts easily to move, is sturdy enough to support my running and had a mid-range price. Quality and value—can't beat that. I bought it because I trust SparkPeople and I LOVE it." – BROOKLYN_BORN

7. Gym Membership (prices vary)

"I bought a gym membership! [It has] a swimming pool, indoor track, climbing wall and more. I realized that as much as I could do things on my own, I missed the group classes and facilities that this place provides. There's so much to do that I change my workouts frequently and thus have not gotten burned out. It's never just the same old grind. So yes, I couldn't live without it." – Liz Reep

8. Muscle Massage Body Stick (The Stick, $42.45)

"[This] muscle massage tool works wonders for over-worked and sore leg muscles! [It also] helps prevent injury for this runner!" – COUNTRYNETTERS

9. Food Dehydrator (Hamilton Beach, $49.99)



Photo courtesy of Amazon.

"My dehydrator, for [drying] fruits and vegetables for easy, healthy snacks on the go."
– Katelynn Davis

10. Activity Tracker (Fitbit Blaze, $198.95)

"My Fitbit Blaze. I'm always trying to hit my 10,000 daily step goal and push myself past it." – THILL11

11. Bike (Trek Verve Bike, $439.99)

"'Heads up' for my Trek road bike. I'm not a racer and the bent-over position [of a traditional road bike] isn't really comfortable. I love the increase in height of the handlebars, [which] allows me longer hours in the saddle for each ride." – Debra Faulconer

12. Smoothie Maker (SharkNinja, $97.99)



Photo courtesy of Amazon.

"I purchased the Ninja Nutri smoothie maker. Admittedly, I bought it for my health-conscious son, but it was too cumbersome to pack to go to college so he left it here. It's easy to use and has a permanent spot on my counter top." – Mary Theresa

13. Pressure Cooker (Instant Pot, $99.99)

"I bought an Instant Pot pressure cooker. It makes making healthier dishes easier." – ALICEONE

14. Heart-Rate Monitor (MYZONE, $149.99)

"[My] MYZONE heart-rate monitor keeps me motivated, working through my specific zones and pushing me harder." – CDISHMAN8

15. Sports Bra (Under Armour, $54.00)



Photo courtesy of Amazon.

"[My] Under Armour sports bra is amazing! It's hard to find one for [size] DD that keeps any bounce to a minimum – Susan Gordon

16. Personal Trainer (prices vary by gym)

"My personal trainer, Tracy. She's the best…changing my life." – Phil Kabza

17. Fabletics (starting at $49.95 a month)

"Fabletics. I always get compliments [and the clothes] are a good quality and price."
– Mandee Wheeler Ross

18. Yoga Strap (prAna, $14.90)



Photo courtesy of Amazon.

"[I] use a yoga strap for stretching…it has really helped!" – RHAL1462

19. Hiking Boots (Merrell, $130)

"My Merrell hiking boots…absolutely love them!" – Sandy Robertson

20. Blender (Vitamix, $435.70)

"Vitamix! I love my veggie protein—veggie and fruit smoothies every day!" – HOTROD53

What are your favorite health and fitness purchases from the past year? Share them in the comments!

We hope you love these products as much as we do! SparkPeople may collect a small percentage of revenue from the links on this page.




You will earn

5

SparkPoints

Like what you read? Learn more

about SparkPeople,

or

sign up

for your free account today!
Got a story idea? Give us a shout!