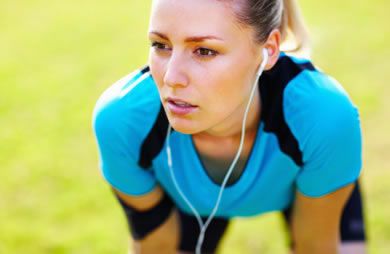 TODAY'S TOPIC: How much should you challenge yourself and how high should you set the bar? Some believe that building confidence by reaching any goal is most important. Others feel that being inspired by high standards or a lofty goal is what will get you up in the morning. Let's talk about some of the pros and cons of challenging yourself vs. taking it easy and aiming low.

NICOLE (SparkPeople Fitness Expert): I think it's important to have both broad and specific goals. A broad goal would be: I want to be healthier. From there, you add specific goals: "I want to lose weight. I want to eat healthier foods. I want to exercise, etc. Within that, I think small and attainable goals are the way to go. If you are a less-than-healthy person, a little overweight, eating a poor diet, maybe even a couch potato, I don't think it's reasonable or motivational to set high goals like: I will run 3 miles 5 days a week.

When it comes to seeing results and meeting goals, I think small goals are best. Setting small goals and continuously improving is going to be great for your self-esteem and it'll keep you motivated. Small goals would be: eating one piece of fruit each day, trying a new vegetable dish, exercising for 10 minutes 2-3 days per week. Meeting these goals—and keeping track of them in a journal or an online format—is very motivating. Once they're met, set your standards a little higher, and you're always achieving something, and all of these small "somethings" are helping you toward your broader goal of "getting healthier."

JEN (SparkPeople Community Leader): I think people need to place a lot more emphasis on small goals than they do. Time after time I see people who just say, "I want to lose 50 lbs." Then they are discouraged 2 weeks later because they've only lost 2 lbs and think "All that hard work and I'm still 48 lbs away from my goal." They figure it's not worth the effort, so they quit. That's why I think small goals are so important. If you are constantly taking small steps- developing a plan for how you are going to reach each one and maybe a reward when you do- you'll eventually get to the same place, without all the pressure and stress.

I also think too much emphasis is placed on reaching a certain number on the scale. There are so many other awesome benefits that come from eating healthy and exercising regularly. Better sleep, less stress, lower BP and cholesterol, just to name a few. Yet people think if the scale doesn't say that exact number, they have failed. So when people think about results, I think they need to take the whole picture into account.

Continued ›