Meals That Serve A Crowd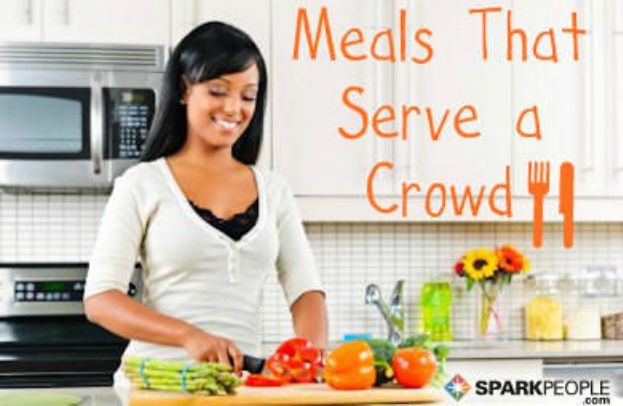 I recently came across my great grandmother's focaccia pizza recipe and was surprised that it served 100 people. Apparently, cooking for a crowd was the norm in my family. One thing my family has taught me is that cooking a big meal doesn't have to be complicated or unhealthy. My guests often mention how surprised they are how tasty a healthy dish can be and how inspired they are to try simple substitutes in their recipes. Here are seven SparkRecipes that can easily be doubled when cooking for a crowd.



7 Meals To Serve A Crowd








Healthy Chicken Vegetable Casserole

Try this inexpensive and fresh version of a chicken casserole--no need for processed soups or sauces!


CALORIES: 320.6 | FAT: 8.9g | PROTEIN: 27.9g | CARBS: 36.1g | FIBER: 8.8g









Stepfanie's Quinoa-Black Bean Casserole (Vegetarian and Gluten Free)

Beans and quinoa seasoned with onions, garlic, chiles and spices. Serve this with steamed broccoli or wilted spinach and a dollop of light sour cream or plain Greek yogurt.

CALORIES: 257.4 | FAT: 4.3g | PROTEIN: 15.4g | CARBS: 40.9g | FIBER: 9.6g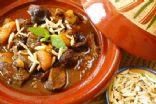 Slow Cooker Moroccan Beef Stew

Chef Meg turned a member-submitted dish into a slow cooker meal that's easy yet exotic!

CALORIES: 370.3 | FAT: 11.2g | PROTEIN: 38.8g | CARBS: 27.7g | FIBER: 5.7g









Low Fat Spinach Lasagna

A much quicker version of the Italian classic; less time, but no less taste.

CALORIES: 315.6 | FAT: 14.8g | PROTEIN: 26.3g | CARBS: 24.2g | FIBER: 3.7g










Chicken Breasts with Red Wine Sauce (Chef Meg's Makeover) (Gluten Free)

This is a lighter take on the classic Italian preparation of Chicken Cacciatore (or Chicken Hunter Style). Our made-over version uses white meat rather than dark and less oil to cut almost 60 calories per serving and reduce the fat and sodium of the traditional recipe.

CALORIES: 269.6 | FAT: 9.6g | PROTEIN: 31.2g | CARBS: 8.6g | FIBER: 1.7g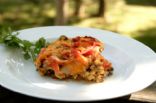 Chicken Enchilada Stacker

Chef Meg's enchilada casserole is great for a weeknight meal or as a appetizer for a party. Better yet, it's a one-dish meal! Serve it with steamed broccoli or a green salad.


CALORIES: 281.3 | FAT: 9.5g | PROTEIN: 27.4g | CARBS: 21.5g | FIBER: 6.5g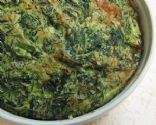 Spinach Souffle Casserole (Vegetarian and Gluten Free)

Lowfat high protein delicious soufflé. This is great as a main dish or side!

CALORIES: 110.1 | FAT: 2.2g | PROTEIN: 17.1g | CARBS: 5g | FIBER: 1.2g


Each week we share a themed collection of our favorite SparkRecipes. Browse the entire collection of "What's for Dinner?" blogs.

Want more healthy recipes from Chef Meg and fellow SparkPeople members? Be sure to subscribe to SparkPeople's Recipe of the Day email. Click here to sign up!

Did you know SparkRecipes is now on Facebook? Click here to "Like" us!

Like this blog? Then you'll love "The SparkPeople Cookbook: Love Your Food, Lose the Weight."




You will earn

5

SparkPoints

Like what you read? Learn more

about SparkPeople,

or

sign up

for your free account today!
Got a story idea? Give us a shout!