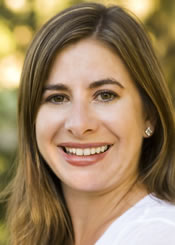 Samantha Donohue
Samantha Donohue is all about taking her health seriously, without taking herself too seriously. She loves to fly through the air on a trapeze, hide vegetables in her children's morning smoothies, and out-sprint her husband on training runs. Having grown up cooking with both of her Italian grandmothers, she knows how to make most everything from scratch, but she's not afraid to throw in a jar of pasta sauce when no one is looking.

Her life motto is "to run the race set before me with my eyes wide open and focused on the goal."
Read More of Samantha's Blogs:
In honor of Heart Awareness Month, I've gathered up recipes that have the ultimate superfood: chia seeds. Chia seeds are a great source of heart-healthy omega-3 fatty acids and proteins. If you have not heard of chia seeds, read "What Can You Do with Chia Seeds? Plenty!" for more information. Don't let giggles and jokes about the kitschy Chia Pet commercials dissuade you. I add chia to almost all recipes these days. I love that it's gluten and alergy-free. Try these chia recipes today.
Read More ›