Look Your Best in Every Photo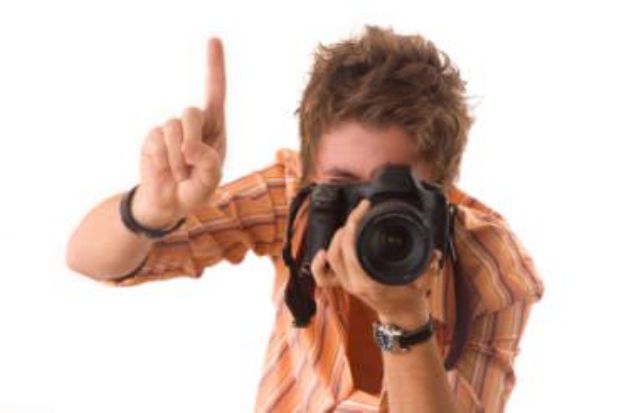 Editor's Note: Many of us spend years hiding from the camera, but along our healthy journey, we eagerly want to capture every step of the way. How can we ensure that our "after" photos are good ones? An image consultant and SparkPeople member tells us how.

By Merry P. Nachemin (SPARKENISTA), Certified Image Consultant

Whether you are on your health and weight loss journey or have arrived at your destination, it is important to stand tall and celebrate your commitment and progress at each step of the way. One way to do this is with fabulous pictures that record every stage of your unique story. Here are a few are guidelines designed to help you look your very best no matter in what chapter you find yourself at this moment. (Check out the winners of SparkPeople's Official 'After' Photo Contest)

Your attitude, enthusiasm and exuberance are the essence of every picture. That is what comes across to the people viewing your pix and what will be evident in the years to come as you look back on this time. Everything else is wallpaper. Therefore, do not dwell on the small stuff.

Your face is the star of the show. You should always draw attention to your face, shoulder line and upper torso because this is the main attraction of the photo. When you focus on your face, you draw attention away from areas that you may not want to highlight such as stomach, derriere or hips.

The use of makeup can enhance your picture enormously. Wearing a couple of fundamental cosmetics can go a long way toward taking great pictures.

For example:
a great mascara is universally flattering—I call it the "Panoramic Lash." It opens the eye and makes you look youthful and alert, and it doesn't require sophisticated knowledge of color.


lipstick and/or gloss will keep your lips looking moist and attractive


blusher will make you look fresh, healthy and well-rested
Your hair is your crowning glory and one of your most important accessories. Invest in a good cut and possibly color on a regular basis. Ask your stylist to suggest options for different looks that flatter your face and teach you the techniques to carry them out.

Always condition your hair every time you wash it. Use a deep conditioner occasionally so that your hair is glossy and healthy-looking.

A side-part is universally flattering, and unless you have perfect features, avoid a center part.

For pictures, you might want to try something new. If you regularly wear your hair down, try putting it up; if you wear it wavy, try blowing it out straight.

The Bolder Shoulder is a current trend that that is enormously flattering because it lifts the eye up and draws attention to the star of the show: your face. Creating the Bolder Shoulder is easy: Look for a top with a small shoulder pad not the Dynasty shoulder pad. This is a great look to try because it helps to balance out the hip line.

Purchase dresses or tops with embellishment at the shoulder line—sequins, cut-outs, the cold shoulder (cutouts at the shoulders), a stripe, lace, embroidery, buttons, a scarf, folds that resemble origami, shirring, or anything else that draws the eye up.

Look for a great collar or neckline. This can include a stand-up, bateau or boat-neck collar, a crumb catcher, an architectural look that falls in soft folds or any other look that shows off your creativity and is a little different from the norm.

This is a great place to add color or pattern in your sweater or blouse or with a scarf. The color will reflect back onto your face for a great glow. Great earrings and/or a statement necklace are also options that will bring attention to your face.

Here are some great tips to make sure that your poses rock:


Always stand tall with your shoulders back and your head held high so that you minimize your stomach, maximize your height and enhance your posture. Whether you are statuesque or petite, show pride in your stature.


Red Carpet Secret: Stand at an angle to the camera with one foot in front of the other. Angles are your friends. They will always make you look great!


Photographers' Secret Ploy: If you want to minimize a less-than-flattering chin or some lines on your face, take your picture lying down on a hassock or armless chair with the camera pointing down at you. That way, gravity is in your favor. You will have an instant and free--if temporary--face-lift.


To minimize any "fluff" or fullness in the stomach area, it is best to stand when taking pictures. It is also a modeling trick to pull your stomach in about a second before the shutter snaps.
Dressing Tips: One of the guiding principles is that the taller you look, the thinner you look. Therefore, to look your tallest and most svelte remember:

Monochromes are magical:
To look your most slender, wear one color or similar shades of one color head-to-toe in an unbroken line from the shoulder down. This will make you look sleek, chic, sophisticated—and fit!


To create the longest, leanest line, pants hems should be as long as possible without dragging on the floor.


Hose and shoes should be in the same tone as your pant or skirt to maximize the length of your legs.


A shoe with a heel and a somewhat pointed toe extends the leg even farther and makes you look long and lean.
Wear clothing that fits your body as it is today to avoid a "tummy roll."
That means no belts, slacks or skirts that are so tight they create a line or a bulge across your torso because this breaks the smooth line and makes you look shorter and heavier.


One way to create the illusion of a more slender waistline is my "triangle secret"--create as many triangles on your torso as possible.



Wear a necklace


Wear a v-neck top


Leave a button or two open on a blouse


Wear a jacket or cardigan over a top and button one button in the center. This will create a triangle on top of the button and a triangle below the button.


"Wrap" dresses and tops create or enhance your waist and are very flattering.




Foundation garments can make your look smooth and sleek. Spanx are not only comfortable but compress the tissue so that there is no overflow.


Investing in and wearing the right bra can make you look 10 pounds thinner.


Go to a store where they have professional fitters and return at least every six months and possibly more frequently as you lose weight


Don't wear clothing that is tent-like or that that has become too large on you and that you have not had tailored to your current size. You'll only look larger than you are, and you want to show off your hard work. (For more tips on building a wardrobe on a budget while losing weight, read this story.)


Clothing that is as sleek and simple as possible will give you the longest lines. This means: Avoid pleats or embellishment on slacks and skirts, avoid pockets or ornamentation anywhere you want to diminish attention, and look for a flat front on skirts and pants.


Hems of skirts, capris and dresses should stop at a point on the leg that is narrow. To have the most flattering length wear them at the knee, just above or below the knee or just above or below the center of the calf where your leg is the thinnest to create the optical illusion that the entire leg is slender. Conversely, when you stop the hem at a heavier point on the leg, it will appear that the entire leg is heavier.


Matte fabrics make you look thinner than shiny fabrics.


Dark fabrics make you look thinner than light fabrics.


Stripes can be your best friend if worn the right way. Avoid thick horizontal stripes, and instead look for a single stripe down the side a pants leg (as in workout pants). Search for tops with a stripe across the shoulder or asymmetrical stripes. A single stripe, zipper or scarf that goes straight down the front of your top elongates your torso.
Remember—the most important part of taking pictures is having fun. Your smile, your style and your personality are your MOST IMPORTANT accessories!

Merry Nachemin, L.C.S.W.R. is a Certified Image Consultant, a makeup artist and owner of Extreme Elegance Image Consultants, LLC. She is a graduate of the Image Consulting and Business Management Certificate Programs at the Fashion Institute of Technology in Manhattan. She has also taught classes in fashion at Wagner College. She has dressed models in the tents in Bryant Park during Fashion Week and worked in the wardrobe department of a major motion picture.

Prior to launching her business as a second career, Merry worked as a clinical and administrative social worker for many years, ultimately becoming an Adjunct Associate Professor of Social Work at New York University, where she earned her master's degree.

Since 2005 she has guided her clients in their quests for career and personal success, blending her knowledge of the human psyche with her passion for fashion, color and style. She knows that our outer appearance is the manifestation of our inner self. You can view her web site at ExtremeEleganceImage.com.

What is your best photo tip? Do you like posing for photos more since losing weight and becoming healthier?



You will earn

5

SparkPoints

Like what you read? Learn more

about SparkPeople,

or

sign up

for your free account today!
Got a story idea? Give us a shout!