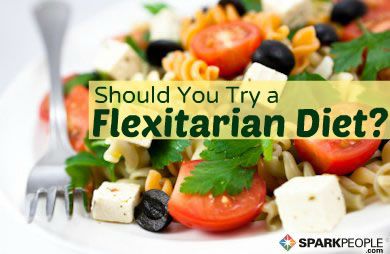 "What do you eat?!" may be the question most often heard by vegetarians, as if meat is the only food group available. Obviously, as the five million thriving vegetarians in America have shown, there's a lot to eat, without choosing meat—and they're healthier as a result.

According to the Physicians Committee for Responsible Medicine, vegetarians have lower rates of cancer, heart disease, hypertension, diabetes, and asthma. While simple recipes abound for tasty meatless fare, vegetarianism is a leap that many aren't prepared to take. But you can still have many of the health benefits of a vegetarian diet without trading your turkey for Tofurkey by trying "flexitarianism" on for size. Flexitarians, or semi-vegetarians, are "sometimes" vegetarians, meaning people who reduce some of their meat consumption and fill the gap with other plant-based food groups—eating a mostly vegetarian diet, yet remaining flexible.

Although the name is new, the idea is not. In fact, a few generations ago, meat was most often eaten in side-dish portions, while other food groups took center stage. Beans, vegetables, and grains supplied the bulk of a meal, while the meat supplied the flavor. This might sound backward, but many nutrition experts agree that our health would benefit if we took this "old-fashioned" approach to eating.

Eating less meat and more grains, beans, fruits and veggies means you'll be consuming fewer calories, less saturated fat and cholesterol, and higher amounts of vitamins, minerals, and fiber. And that adds up to a lot of health benefits. On average, people who eat less meat are leaner, less apt to weight gain than people who eat the most meat, less prone to cancer, especially colorectal cancer, and suffer from fewer heart problems.

Another benefit is that you'll save money. Meat costs more per pound than most foods. You can use that extra cash you save to get a gym membership, new running shoes, or an iPod for your workouts.

Committing to a 100% vegetarian diet isn't necessary to achieve the health benefits that vegetarians enjoy. There aren't specific guidelines to exactly how much meat to cut out to achieve these benefits, but cutting back even slightly is a positive change. A national health campaign known as Meatless Monday promotes cutting out meat one day each week, but you could try meatless lunches during the week for the same effect.
Continued ›
Article created on: 8/7/2007