12 Days of Holiday Cookies: Peppermint-Dark Chocolate Slice and Bake Cookies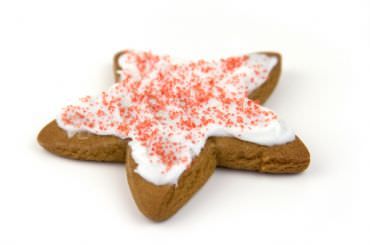 During the busy holiday season, prepare cookie dough ahead of time and then bake close to serving time. The cookies always taste better when freshly baked. This recipe is a basic dough but allows a lot of creativity. You can add your favorite flavoring to the dough and then roll the cookie log in different chopped nuts or use holiday cookie sprinkles.

This dough will refrigerate well for two days and will freeze nicely for up to two months. If you want to use egg substitute in this dough, that will work as well. Follow the instructions on the package for accurate substitution.

This recipe was created by Patricia Huller C.C.E., M.Ed., a culinary instructor and healthy baking expert from Cincinnati State's Midwest Culinary Institute, especially for SparkRecipes.

Ingredients:

1 large egg

1 egg white

1/2 teaspoon vanilla extract

2 sticks I Can't Believe It's Not Butter cooking and baking blend, softened

3/4 cup granulated sugar

1 1/2 cups whole wheat pastry flour*

1 cup white whole wheat flour

1/2 cup dark chocolate chips

4 large sugar-free candy canes *(available at most larger grocery stores; we found it in bulk at Whole Foods)

Nutrition Info:
Calories: 55.3
Fat: 3.1 g
Find the full nutrition info here.

Directions:
Preheat oven to 375 degrees Fahrenheit.

Mix eggs and vanilla in a small bowl. Beat butter blend in an electric mixer and slowly add sugar. Beat until smooth. Add egg mixture and blend until incorporated. Add the flours and blend on low until the dough is formed.

Divide the dough in half. Place a piece of plastic wrap on the counter. Place half of the dough on the wrap. Using a floured hand, shape into 9-inch long roll. You can shape into rectangle, square or pyramid, depending on the shape of cookie you desire. Cover with plastic wrap and chill for 45 minutes, or until dough is firm. Repeat with the rest of the dough.

Line cookie sheets with parchment paper or use silicone baking mats. Slice dough into 1/4-inch pieces. To assure even baking, place 1 pan on upper-middle rack and 1 pan on lower middle rack. Bake for 5-7 minutes. Rotate cookies front to back and change racks. Continue baking until golden brown about another 7 minutes. Cool on rack.

Melt the chocolate chips. Crush the peppermint by placing in ziploc bag and lightly hit with a rolling pin. Spread melted chocolate on 1/3 of the cookie and sprinkle with a small amount of crushed peppermint.

Yields 6 dozen cookies.

Members who subscribe to SparkPeople's Recipe of the Day Newsletter receive one new cookie/dessert recipe each day, beginning December 1, to help them prepare for holiday parties and gift exchanges. We're also sharing them here because, well, who doesn't love good (and somewhat healthy) cookies?

Want to receive this in your email inbox? Click here to update your email preferences. Be sure to select "Recipe of the Day"

Will you make this recipe? Which ingredient do you like to pair with chocolate?



You will earn

5

SparkPoints

Like what you read? Learn more

about SparkPeople,

or

sign up

for your free account today!
Got a story idea? Give us a shout!