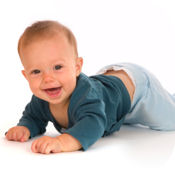 Birth is a wonderful and life-changing experience for every mother, and certainly no two births are alike. From giving birth in the backseat en route to the hospital to getting an epidural in a swank birthing suite to an emergency C-section for a breech baby, there is no one labor and delivery method that's right for every mother (and every baby). Jenny Sigler, a parenting and pregnancy writer, decided to go au naturel for her second child's arrival in this world-and she wanted to give birth at home and in the water. While she acknowledges natural birth (or home birth or water birth) is not ideal for everyone, she says she wouldn't change anything about her daughter Olive's unique birth.

I close my eyes and hold my breath while my husband, David, and a med student hold my numb legs. A nurse excitedly counts: "1-2-3-4-5-6-7-8-9-10!"

Again and again, the numbers are rattled off and I push, eyes closed, anticipating meeting my new son. Again and again they count, I push and fall back onto the bed.

"I see the head! Here it comes!"

My son, Augustine, was born.

Afterward, I felt a bit unfulfilled. I had planned a natural birth but ended up being induced and having an epidural.

While I certainly felt positive about Augustine's birth, I felt like something was missing, and I just couldn't put my finger on it. Almost a year and a half later, we started trying to conceive again and, once pregnant, I started to reflect about birth. I sat down and wrote about my ideal birth. I wanted no induction methods, no augmentation, no supplementation. I wanted a completely intervention-free, peaceful birth for both me and our baby.

We set out to find a midwife. Poking around in the phone book and calling my preferred hospital, I learned that there was only one group of midwives who delivered at hospitals in my area. That's when I approached my husband about a home birth.

He was incredibly skeptical but agreed to make appointments with certified midwives who delivered at hospitals and at home.

We sat down with the first midwife, but we just didn't feel like delivering at a hospital was the right situation for us. Next, we met with a midwife who exclusively worked in homes. Our questions fell on eager, knowledgeable, and attentive ears. After an hour of yapping, my husband and I locked eyes. He gave me a little nod, which I understood to mean he was on board with the home birth. I was thrilled!

Throughout my pregnancy, I took a very serious look at what birth was all about. I quickly realized how much I trusted my body. Incredibly (but not surprisingly), I found my anxieties leading up to the birth start to diminish. (Though I did have my worries!)

I crafted my ideal birth plan, which I discussed with my midwife and my husband:

I wanted to go into labor on my own, without being induced as I had the first time.
I wanted to labor and deliver in any place and position that felt natural to me.
I wanted freedom for David to be as involved as we wanted.
I wanted to have only a few, select people present at the birth.
After delivery, I wanted to nurse immediately and have uninterrupted skin-to-skin contact with my baby.
I wanted to wait to cut the cord, for at least 10 minutes but preferably until the placenta was completely expelled from my body.
I began gathering details about water birth, which greatly appealed to me - baths are one of the most supremely relaxing moments of my day. I learned about how water's natural buoyancy can help a mother relax during labor and even help the baby come out with less stress. I did not wed myself to this idea because I knew that my instincts might lead me in a different direction, but I hoped for a water birth experience.

I felt a little nervous leading up to the birth. What if I felt I needed some pain relief? What if something went wrong and I needed some medical attention that had to be taken care of in the hospital? Through research, reading, and my trusted midwife, I came to trust my body fully.

My midwife's no-fuss attitude was a big contrast to the more traditional approach I had the first time. The ultrasounds were replaced with palpations of my stomach, a fetoscope (fetal stethoscope), and conversations about my intuition, in addition to standard care. This greatly contributed to a peaceful feeling going into the birth. When I was about 39 weeks along, I started to have some regularly occurring contractions and thought, "This is it!" I called my best friend, and we set to work assembling the birth tub. Our selected pool, the AquaDoula, was an actual tub designed and marketed for births. In contrast to kiddie swimming pools some people use for water births, it was very large (I am 5'10" and was able to fully extend my legs--while my husband was in there with me!), had high walls for full submersion, and provided continuous heat to regulate the temperature of the water. It took about 15 minutes to put up and was the size of a small dining room table.

It turns out I was in false labor, and I ended up having the birthing pool in my kitchen for another three weeks!

One morning, well beyond my estimated due date, I noticed my Braxton Hicks contractions starting to pick up in frequency and intensity. I called my husband and told him to come home, then I made plans for our 2-year-old son, Augustine, to be cared for. We walked around a shopping mall until the contractions were three to four minutes apart and caused me to stop and catch my breath. Around 1:00 p.m., we called the midwife and told her that she should probably come over soon. She arrived around 4 p.m., and the contractions were still manageable and rather light. I was all over the house laboring -- on the toilet, on the birthing ball, in bed, leaned over chairs, leaned over the sink, crouching on the ground. My husband was truly invaluable, providing sips of water or soup when I could get them down, applying hot or cold washcloths to my forehead, rubbing my hips and lower back during contractions, and continually giving me affirmations. Somewhere near 7:30 p.m., I wanted to get into the tub.

Labor hit like a train shortly thereafter, and I was in and out of the tub to labor on the toilet and empty myself. Just an hour after getting into the tub, I was 8 centimeters dialated and feeling ready to push at the end of contractions. A lot of low moaning and chanting helped me overcome the urge to push. I definitely felt all ego, control, and intention stripped away until I was only left with instinct. I had only pushed for 15 minutes with my first birth, so I expected the same or less with this one. Unknown to all of us, my daughter was a brow presentation (forehead presenting first), which required upwards of an hour of pushing. At 9:52 p.m., after 10 hours of labor (but truly only 2 hours of hard work) she was gently born over a completely intact perineum into my hands in the tub. Immediately I yelled out "I did it! I can't believe I did it!"

Olive came out without so much as a whimper. It was so peaceful and empowering. Unlike birthing in the hospital, there was no rushing around, no monitors beeping, no people scurrying about. It was just us, calmly doing what we felt naturally came next. After a half an hour or so, the two of us made our way to the couch, where I nursed our daughter for the first time.

While natural childbirth offers innumerable benefits for everyone involved, it would be naive to assume that it would suit every woman. Having had one birth with "the works" and one that was natural, I prefer the latter. I felt powerful and connected with my body, its abilities, and its strength. (This is coming from a woman who fully admits to lacking power and perseverance when it comes to physical trials of any kind!)

When people find out about Olive's birth, they usually say something like "Wow! You're so brave!" or "I could never do that." The truth is our bodies are made to birth, and we have everything in us already that we need--a baby, a contraction, and a push.

Do you have a Success Story you'd like us to publish on BabyFit? Send your story, along with a photo of you and your baby, to stepfanie@babyfit.com. Submissions should be 500-1,500 words and will be edited for clarity, grammar and tone.