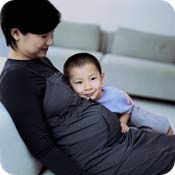 Give this article to your sister when you're done reading it.

Or your mate, your mother, your significant other.

Or better yet, if you're not inclined to be subtle (and if your entryway is protected from the weather) tack it to your front door, right below your seasonal wreath.

It's our attempt to clue your friends, family, and co-workers into what they can do to make your day-- or the day of any pregnant woman.

We recently asked about "The Bad and The Ugly"-- the mean, thoughtless, or just plain dumb remarks that pregnant women endure. So, to even things up a bit, here's "The Good"-- the nicest things said to you while you were pregnant, words that (we hope) will cheer you and reward your faith in human nature on Valentine's Day.

JENN (FERNSFIRSTBABY)
"My husband tells me all the time that I am very sexy pregnant" while rubbing and kissing her belly, according to Jenn, who expects a baby girl March 5. In addition, "I had one lady here at work tell me that I looked great, that my complexion was wonderful and that I carried myself very well." Both compliments "meant a lot to me."

At the risk of sounding vain, most expectant mothers confessed that appearance is important when you're pregnant.

NATALIE (NATALIE79)
Natalie is from Southern Ontario and expecting a son in May. "My husband's aunt told me I look like those fitness pregnancy moms in the magazines. I did not want to have a smile from ear to ear and look like a dork after she said that, but I did." She also treasures her sister's words upon learning of her pregnancy: "I am so happy you are pregnant. If anyone deserves a child it is you. You will be such a great mom."

TRACI (PREGGOUGAFAN)
Traci also appreciated compliments from hubby, "He said I had this great glow about me." Others told her "that I was so cute pregnant and that I looked like a big butterball walking on toothpicks. I hope that was a compliment!"

CHRISTINA (IMAMOMMY)
Christina, whose son Bryce Dylan arrived January 31st, was also told she had "that glow" but what really impressed her was having various friends tell her, "Wow, you can't tell you're pregnant from behind." To which she responded "Yippee!" But "I guess what made me feel all warm inside though was when my big brother came up and put his hand on my tummy and said, "How's little Bryce today, does he want an ice cream?"

Continued ›