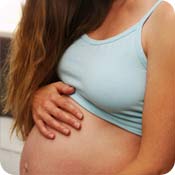 Here is part two of Monica's article on organizing your life during your pregnancy. Part II is about the third trimester.

The Third Trimester: Reality Sets In

During the third trimester, the reality that you're going to have a baby really sets in. You actually look pregnant (and glowing of course!) and your friends are getting excited about planning your shower. This is the time when the world wants to share in your joy and anticipation, so try to be patient when every person you meet wants to talk about your pregnancy, and realize that they are happy for you and are acknowledging your motherly glow.

Month Seven

The seventh month is a great time for baby showers. By this time, you've already chosen the theme for the baby's room, your registry is finished, and most of the big house projects are behind you. This is the time to enjoy the added attention and pampering that will be lavished on you. When I asked about the baby shower and all the fuss that is made over the mom-to-be, new mom Noreen Courchene remarked, "Once that baby is born, it's not about you anymore, so enjoy all the attention while you're still pregnant!"

After your showers are over, you'll have a house full of baby clothing, toys and equipment to contend with. Put away as much as possible in the places you really plan to keep it. This will be good practice and will get you familiar in advance, with where various things will live once the baby comes home. Also, assemble the equipment, read the manuals and figure out how the various items work, such as the baby swing, thermometer, the bouncy seat, Pack N' Play™ and car seats. The time to be figuring these things out is now, before baby arrives, rather than when he is screaming his sweet little head off.

Begin packing your hospital bag now, so you won't have to do it in a rush later. Here are some things to take with you to make your 48-hour hospital stay more comfortable:

Nightgown
Robe
Slippers
A toothbrush and toothpaste
Shampoo and conditioner
A maternity outfit to wear home
One outfit for baby to wear home
A baby blanket to wrap baby in for the trip home
Snacks for you and your husband
Cameras
Any paper that your doctor may instruct you to bring
Books and magazines
This is the time you'll want to purchase a diaper bag with several compartments. Tell Daddy not to worry… diaper bags are no longer fated to be light blue and covered with flowers and duckies. You can find "diaper backpacks" that are specially made for hauling kid supplies, but they look just like a regular backpack, so Daddy doesn't have to forgo his manly image in public. Inside your diaper bag keep an extra outfit or two, diapers, wipes, ointment, feeding supplies, and snacks for yourself. You need to keep your energy up too!

Continued ›