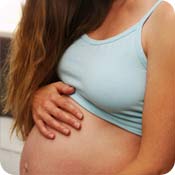 Month Eight

Remember all those cute little baby clothes your friends and family gave you at your baby showers? They all need to be washed and sorted by size and season and now is the perfect time to tackle that project, since you aren't likely to accumulate many more pieces between now and the end of your pregnancy. Wash baby clothing in fragrance-free baby detergent, and be sure to follow label instructions on anything that may be made from flame-retardant fabric.

Once the clothing and blankets are washed, sort them by size first, then by season and place what you'll need immediately in the baby's closet or dressing table drawers, and pack the rest in containers to pull out as your baby grows. Create a habit of keeping an open container in the closet and laying aside the clothing that baby grows out of, as it happens. As you notice that he isn't quite fitting into something, simply lay it into the open container and when it's full, put the lid on, label it and either store it for your next baby or loan it to a pregnant friend. By establishing this simple habit early on, you avoid ever having to sort through a whole closet full of clothing, trying to remember which ones still fit and which are ready to be boxed up.

Begin placing the things you will need for dressing and changing the baby close at hand, convenient to the changing table. Put items such as extra diapers, ointment, baby wipes and pajamas in the easily accessed spaces of your changing table. You won't want to be leaving baby unattended to cross the room for these things. Also, place the diaper pail close by the changing table so it is easily accessible when you have one hand on the baby and the other is holding a dirty diaper.

Month Nine

Take care of any last minute touches to finish the nursery, and take care of yourself. Drink enough water, get enough sleep and don't let your friends and family regale you with their own birthing horror stories! You have enough on your mind already.

Most new moms have friends or family members stay with them for the first few weeks of motherhood just to help ease into the job. Sit down and make a schedule of who is coming when, and then distribute it to everyone involved, so they all know what to expect and guests don't overlap. You'll have enough to do without having multiple houseguests, so making the schedule is time well-spent.

Continued ›