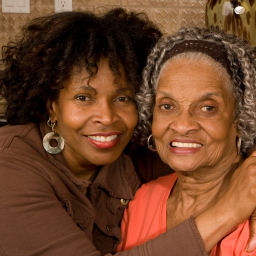 It's extremely important to your health, and that of your baby, to research your family's medical history. And there's no better way to start than by asking your mother. Aside from having parenting experience, her knowledge of women's health can help you prepare for your journey into motherhood even before you conceive. Talking about health--and family illnesses--can be tough sometimes.

Some mothers and daughters are not particularly close, and this could be a way to bond, improve your relationship or achieve a better understanding of the other person. Each mom/daughter relationship is different, so use this list as an inspiration for a conversation between you and your mother.

Here are ways you can break the ice.

Women's Health and Family Health History Starting from your first visit to the gynecologist, your mother was likely there to help fill out forms and ease your anxiety over that first annual exam. Many health issues are hereditary, such as certain kinds of cancer, reproductive troubles, high blood pressure and heart complications. Determining your risk factors for these complications will help your health-care provider find the best health plan for your unique situation. Start by asking your mom these simple questions:
Do you or does anyone else in the family have a history of cardiovascular complications (heart disease, heart attack, high blood pressure, etc)?
Is there a history of breast, uterine, ovarian, or cervical cancer in the family?
Have you ever experienced abnormal periods (irregular cycles, severe cramping, heavy or abnormal flow)?
Is there any chance I may be at risk for ovarian cysts or endometriosis?
At what age did you start menopause?
Did you undergo any hormone replacement therapy?
Do you continue to get annual exams?
Do you have an annual mammogram?
Have you ever found a lump?
These are just a few questions, some to which you may already know the answer. You may even have questions of your own, unique to your own life. Knowing the answers to these questions and being able to share them with your health-care provider means that he or she will be able to provide you with better care before, during and after pregnancy.

Pregnancy and Childbirth Your mother is your best resource for these topics! And although her pregnancy and childbirth experience might seem outdated, she can offer some of the best, most honest advice. We've compiled some questions that you can use to interview your mother on a special occasion, such as Mother's Day or her birthday--it's a fun and creative way to bond!

After I delivered my first child, my mom and I used these questions to compare the differences in our experiences--we spent an hour and a half on the telephone, reflecting on some of our fondest mommy memories! I was just as surprised at the similarities as I was with the differences in each of our unique experiences!
Did you have trouble conceiving?
How long did you "try" before getting pregnant?
Did you ever lose any pregnancies?
How did you tell others you were pregnant?
What pregnancy symptoms did you have?
Did you suffer from morning sickness, exhaustion, indigestion, etc?
What foods did you crave when you were pregnant?
What did you do during pregnancy that now they suggest not?
Did you have the choice to find out the sex? If so, what did you decide? If not, did you have a suspicion of the sex?
What was it like when you gave birth?
How long were you in labor?
Did you have any C-sections?
Did you have a natural childbirth?
What was the "norm" for labor and delivery in those days?
How did you feel during labor?
Who was with you in the delivery room?
What was my father's reaction after I arrived?
Did you breastfeed or bottle feed?
Which was more common? Were you encouraged to do one or the other?
What was it like to recover from having a baby? How did you lose the pregnancy weight?
Is there anything that surprised you about the pregnancy or about me after I was born?
What baby supplies are available now that you wish you had?
In what ways did your doctor encourage you to stay healthy during your pregnancy?
Motherhood Once you and your baby are home from the hospital, your new life as a mommy will feel like a whirlwind. People will come and go over the next few weeks, but the one who is sure to be of the most comfort is your own mother. As you enter into one of the most trying and rewarding phases of your life, lean on her for support, encouragement, and a few belly laughs--this time will surely remind her of silly stories from when you were a baby!
What kinds of challenges can I expect when I bring my baby home from the hospital?
Do you have any breastfeeding tips?
When will I begin to see my baby's personality?
What things did you do to try and relax as a first time mom?
Did you suffer postpartum depression?
Did you feel overwhelmed?
Whom did you ask for help around the house when you needed it?
Did you get any unsolicited advice from strangers? If so, how did you handle it?
What is your favorite age range during the first year of a baby's life?
Do you have any favorite stories from when I was a baby?
What surprised you the most about being a mother?
What is one of the biggest challenges you have faced as a mother? What has been the biggest reward?
(If you were an only child?) What made you decide not to have more children?
(If you have siblings?) What made you decide to have more children?
What advice would you offer me as a first-time (and/or second-time) mom?
One of my closest friends once said that being a mom is "one of the hardest jobs you'll ever love." And she's right! While being a mommy is sometimes frustrating and challenging in so many ways, there is nothing more rewarding. The memories you will have from this experience are sure to follow you throughout your life--just ask your mom! Knowing where you've come from and who you are--and who your mom is--will help you in your future.