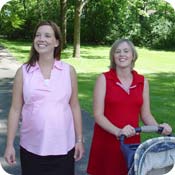 Here at BabyFit, our goal is to create a community that encourages women to stay healthy through regular activity and good nutrition. In that spirit, we have created the BabyFit Walking Challenge for all pre-pregnant, pregnant, and postpartum women-a friendly and fun way to increase your level of fitness. Here's how it works:

1. Pick a virtual destination
Identify the location you'll walk to. It could be somewhere inspiring, like the Statue of Liberty, someplace fun like Disneyland, or a location that needs assistance, like New Orleans.

Set some reasonable guidelines. For instance, consider how many miles you can walk each day, week or month. Those estimates will allow you to plan your virtual route. Remember that each mile walked is one mile closer to the goal. (One mile is equal to about 2,000 steps.)


Make it fun! You can send yourself through exciting cities, historical landmarks, and beautiful parks. You could even visit family members who are spread across a state or region.


2. Track your progress

Setup a goal on BabyFit to walk a certain number of miles per day or week. Every time you complete a goal you will be awarded 3 BabyPoints! (Sign in and click on "My Fitness" on the left side. In the Cardio section, click on "Add/Remove Other Exercise Goals" to create your daily or weekly walking goal.)


3. Celebrate Milestones

Each time you reach a major accomplishment, share it with the team on the Message Boards. Celebrate each step along the way. After all, it could take some of us a year or more to reach our goals. Join a virtual walking or running group in the

"Workout Clubs and Challenges"

forum for more motivation and inspiration.


4. Inspire Others

Dedication and hard work create results; results inspire others to change. When you tell others about your experience they share the joy as you accomplish a wonderful goal!