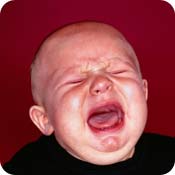 Babies cry for plenty of reasons, and sometimes they cry for no reason at all. Crying is perfectly healthy and normal in babies--it's their only means of communication! For parents and caregivers, it can become stressful at times. If your infant is crying, try one of these tactics:
Feed the baby.
Burp the baby.
Change baby's diaper.
Check baby's temperature--he may be sick.
Check room temperature--she might be hot or cold.
Check to see if clothing is too tight or a tag is bothersome.
Change the scenery--he might be bored or overstimulated.
Give baby a hug, kiss and hold her close.
Go for a walk with a stroller, or just holding him.
Go for a ride in the car (be sure to fasten her securely in car seat).
Offer a pacifier, breast or a clean finger to suck on.
Swaddle baby in a blanket (works great for newborns).
Gently rock baby in your arms or swing with him.
Sing to the baby.
Gently massage the baby.
Call the pediatrician if you think something is wrong.
If nothing seems to quell your crying infant, simply place your baby in a safe place and walk away. No infant has ever died from crying, but too many have died from being shaken!

Editor's note: Two BabyFit members NICKITA and MOM2AMIRACLE started a nonprofit to help raise awareness about Shaken Baby Syndrome. In honor of Child Abuse Prevention Month, they shared this article with BabyFit. For more information on Shaken Baby Syndrome, visit the organization's website.