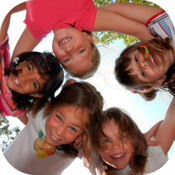 Tooth decay affects American children more than any other chronic infectious disease, according to the U.S. Centers for Disease Control & Prevention. One out of every four kids ages 6 to 11 have decayed teeth.

The American Academy of Pediatrics suggests parents should start taking steps to prevent tooth decay when a child is six months old-basically, as soon as your child has teeth, you should be cleaning them. Obviously, this keeps crud from building up on those pristine baby whites, but it also teaches your child, right from the start, that brushing teeth is part of a daily routine.

Follow these guidelines to ensure your child's smile stays a healthy one.
With infants, wipe the teeth using a soft cloth or a rubber, fingertip scrubber which can be found in any drugstore's infant care section. My kids always liked that scrubber, especially when they were teething. (Though you might get your finger chomped, so look out!)



Teeth should always be cleaned two times a day, ideally after breakfast and before bed.



Toddlers might want to brush all by themselves and this should be encouraged. Make brushing something fun that big kids get to do. You still should follow up to make sure all the teeth are scrubbed clean.



Floss baby teeth at least a couple times a week. Toddlers and preschoolers obviously need you to floss for them; older children should be shown how to do it properly and encouraged to floss daily. Leading by example is a good idea. Your kids should see you brushing and flossing every day, too.



Once a child is old enough to spit and not swallow toothpaste, allow him or her to use a pea-sized amount of fluoridated toothpaste when brushing. My oldest son could spit, but preferred to suck on the toothpaste, so he used a dry toothbrush for about six months until he finally stopped treating the paste like candy.



Speaking of candy, avoid it as much as possible. Keep sweets and sugary drinks-including juices-to a minimum. Stick with fruit (fresh and dried), water and milk. Eating a balanced diet full of whole foods, vegetables, fruits and grains will go a long way toward fighting tooth decay.



Don't put your baby in a crib with a bottle of milk or juice. The liquid will lay on teeth and promote decay. In fact, pediatricians and dentists recommend you only fill bottles with water, milk or formula.



Finally, look at the dentist as if he or she is a pediatrician. The American Dental Association recommends children see a dentist six months after their first teeth appear or by their first birthday. That first visit is just like a well-child check-up. The dentist is making sure everything is OK, and the child is getting used to being checked.
To be honest, I was late with both my kids' first dentist visits, according to the official recommendation. I share this confession because I don't know anyone who has taken a baby to the dentist by his or her first birthday. If you've missed that milestone, don't despair. The key here is to get your kid to the dentist soon, before bad dental hygiene habits set in or problems develop that might make the first visit unpleasant. My oldest son's first visit, which was just after his second birthday, was a great one. The dentist counted my kiddo's teeth, made sure that everything looked normal, and showed him how all the tools worked (including the suction tube, Mr. Slurpee). My son was delighted and couldn't wait to go back.

Speaking of which, I need to make that follow-up appointment and one for my younger son. You should, too!