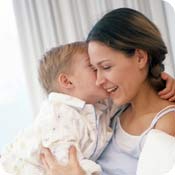 Happy Mother's Day!

Sunday is the day to honor the world's hardest working women: Mothers! You know already that motherhood is a thankless but endlessly rewarding job.

BabyFit says "Thanks!" to all you mothers and mothers-to-be. We wish you a great day, full of quality time with loved ones and endless relaxation. May your day be free of laundry, sibling rivalry, and chauffeuring duties.

And we ask: What would be your ideal Mother's Day? What would you do? With whom would you spend it? Would you get away from your partner and children and take a day at the spa? Or would it be a family day? Breakfast in bed made by your little ones and spouse? Or a rare brunch out with your other mommy friends?

We also want to you to share your best Mother's Day memory!

History
Mother's Day, which in the U.S. is always the second Sunday in May, was started by Anna Marie Jarvis, who devoted her life to establishing Mother's Day after her own mother passed away in 1905. It started in Jarvis' West Virginia hometown in 1908, then spread to 45 others states by 1912. In 1915, President Woodrow Wilson declared Mother's Day a national U.S. holiday, as a day for Americans to fly the flag in honor of mothers whose sons had died in World War I.

Quickly, the holiday became a popular - and commercial - holiday. According to the National Restaurant Association, Mother's Day is now the most popular day of the year to dine out at a restaurant in the United States. One-fourth of all purchases of fresh flowers and plants are for Mother's Day, according to the American Society of Florists. It's also the No. 2 gift-giving holiday, behind Christmas.

To celebrate our favorite day of the year, BabyFit has compiled inspirational stories about fellow BabyFit moms! (Scroll down when you click the link until you see "BabyFit Success Stories.")

Finally, we've compiled some of our favorite quotes about mothers.

"At work, you think of the children you have left at home. At home, you think of the work you've left unfinished. Such a struggle is unleashed within yourself. Your heart is rent."
Golda Meir, former prime minister of Israel

"If you bungle raising your children, I don't think whatever else you do well matters very much."
Jacqueline Kennedy Onassis, former first lady of the U.S.

"By and large, mothers and housewives are the only workers who do not have regular time off. They are the great vacationless class."
Anne Morrow Lindbergh, aviator

"If you've never been hated by your child, you've never been a parent."
Bette Davis, actress

"It is not until you become a mother than your judgment slowly turns to compassion and understanding."
Erma Bombeck, humorist

"A mother's arms are more comforting than anyone else's."
Diana, Princess of Wales

"I remember my mother's prayers and they have always followed me. They have clung to me all my life."
Abraham Lincoln, former U.S. president

"The heart of a mother is a deep abyss at the bottom of which you will always find forgiveness."
Honore de Balzac, 19th century French writer

"All women become like their mothers. That is their tragedy. No man does. That's his."
Oscar Wilde, Irish writer and playwright

"Some mothers are kissing mothers and some are scolding mothers, but it is love just the same, and most mothers kiss and scold together."
Pearl S. Buck, writer
Happy Mother's Day! Enjoy your day!