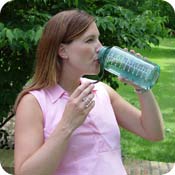 The day I found this site I was about 12 weeks into my 7th and VERY unplanned pregnancy. I had spent the preceding six weeks alternately in tears and vomiting. The only other person who knew I was pregnant was my husband. I was too scared to tell anyone else because I was worried how they would react and I was worried that because I was "over 40" that there may be something wrong with the baby. And I was worried that after we had the amnio, we may have had to choose to terminate the pregnancy and I wasn't sure how anyone, least of all my husband and I, would react to that. I was also very overweight.

I was desperately alone and very frightened but I wanted to be happy for the baby's sake, and I needed to be healthy for both our sakes.

BabyFit had everything I wanted. I started to follow the exercise routines and was using the nutrition tracker daily. I was a bit concerned because I never seemed to be able to eat enough to reach all the targets every day, but sometimes I came close and I figured that was pretty good.

After awhile, I got up the courage to post a message on the board. For the next eight weeks you guys took the place of my friends. You were the only other people who knew I was pregnant.

Somewhere along the way I started to feel really good about myself. I would post a reply to a question and all of a sudden someone would pop in and thank me for my advice. I remembered something about myself that I had forgotten: I was a good mum (it is the thing I am probably best at in the whole world) and I had lots of experience.

I looked forward to the time in the morning when I could get to the computer and "chat." After the amnio when the doctor told us everything was OK, we told everyone, and guess what? They were all thrilled. Even acquaintances from school would say "if anyone should be having a seventh, it's you." Because of my BabyFit experience I believed them. They were right. My family and I would cope as we always have: very noisily and together.

Somewhere along the way the self-esteem I had built up manifested itself as weight loss and huge gains in energy, health and fitness.

Continued ›