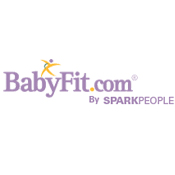 Hello Moms!!!

BabyFit.com, the only on-line personal pregnancy planner, is thrilled to announce that as of Wednesday February 16, 2005, BabyFit.com will be FREE to the world!

In an effort to promote healthy lifestyles for mothers, babies and families, we are making BabyFit.com tools and resources available to all Moms, free of charge.

The SparkPeople organization originally built BabyFit.com because many of the people on our team, including our Founder & CEO, were having their first baby and didn't see any other resources like this, so we built one! We recently decided as a team that promoting a healthy pregnancy to women around the globe (which will likely lead to healthier babies around the globe) is one of the best ways we can make a positive impact on society as a company and a team of committed individuals. This is why BabyFit is now free.

We feel that this tremendous value will bring you even more benefits from your BabyFit.com membership. You'll have access to broader knowledge and experience within the online community, a greater opportunity to give and receive support and motivation, the ability to connect with all of your mommy friends, enabling you to build a healthy habit support team. Your membership also enables you to join us in the aspiration of bringing good nutrition and fitness for expecting mothers everywhere - from your neighbors and around the globe.