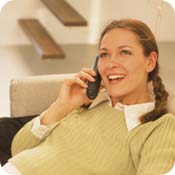 Pregnancy is an exciting time in your life! But while you're busy preparing for your new arrival, your employer may be scrambling to cover your impending absence. Naturally, your boss is going to worry about finding a replacement during your maternity leave and will wonder how soon you plan to return to work. Discussing your work options with your employer as early as possible ensures a smooth transition -- and means one less thing to worry about as the big day approaches.

Consider Your Options
As a working mother you have several options to consider. Depending on your job role, you may be able to return to work on a reduced schedule, "job share" with another individual, telecommute (work from home) all or most of the time, or work flexible hours (to take advantage of child care available). Many employers have adopted family-friendly and flexible work options, which allow you to balance your work and family duties.

Plan Ahead
No matter what options are available at your workplace, don't wait too long to speak with your boss. The earlier you can agree on a plan, the better. A good time to discuss arrangements is when you announce your pregnancy -- that's usually when you begin to show. If your boss is aware of your pregnancy, he or she will need to know if and when, you plan to return to work after your baby is born.

When discussing work options with your employer, it's important to put your personal feelings aside. Look at the situation from a business perspective. Does your proposed arrangement seem practical? What problems could arise if you decide to change your hours or schedule? Who will handle important responsibilities in your absence? Plan your discussion in advance and work out several scenarios -- consider any objections your boss may have and be prepared to present a variety of possible solutions to defend your request.

If other employees at your workplace already have flexible work arrangements, ask them how the situation is working and find out how they presented the idea to their bosses. If their arrangements are working out well, then consider a similar plan for yourself. But if they're problematic for the company, then it's up to you to find a solution before presenting that arrangement to your boss.

Negotiate Like a Pro
Approach your negotiations calmly. If you're nervous or afraid that you might become emotional during the conversation, consider writing a formal proposal instead of having a face-to-face meeting. A written proposal should spell out all options in a logical fashion and allow you to address any objections up front. When writing your proposal, always ask for a bit more flexibility than you expect to allow some room for negotiation. And be prepared to bend a bit at times -- if you want to telecommute, for example, offer to come into the office two days a week instead of asking to work solely at home.

Put in Down on Paper
Negotiating your return to work involves more than setting a date to be back in the office. It's your opportunity to create your ideal family-friendly work environment. Don't wait until you get back to discuss your needs -- have a written agreement in place before you give birth and be prepared to adjust the arrangement as needed. When preparing your proposal, be flexible regarding start and finish times. For example, getting to work for 8 a.m. may be possible while you're pregnant, but this hour may not work out after the baby arrives. See if you can come back to work part-time for the first few weeks until you can establish a schedule, especially if you're not taking a long maternity leave. Depending on how the delivery goes, you may not be physically able to work full-time hours.

Once you return to work, what types of facilities are available for breastfeeding moms? Will you be given extra time to pump breast milk throughout the day, or be able to leave briefly to feed your child at daycare? These are valid considerations and require a formal plan to ensure you can successfully continue to nurse your child when your maternity leave is up.

Unfortunately, the United States lags behind many other countries in maternity leave protection. While the Family and Medical Leave Act of 1993 entitles most workers to up to 12 weeks of job-protected medical leave for birth or adoption, it doesn't cover those who work for smaller companies and guarantees only unpaid leave. Your benefits will vary depending on your employer and your state. Some employers offer short-term disability benefits that can be used for maternity leave. Check with your Human Resources Department, and please note that enrollment in short-term disability often needs to occur prior to pregnancy. Find out more about your legal rights by visiting your state's Department of Labor website or the Families and Work Institute's website at www.FamiliesAndWork.org.