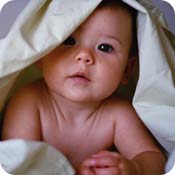 Babies need stimulating environments to help them grow and develop. The following baby games will help you bond and educate your baby throughout infancy and into toddlerhood.

Birth to 3 months
Having a newborn around the house will probably keep you busy. But believe it or not, in between all those diaper changes, marathon breastfeeding sessions and afternoon naps, you and your newborn might actually find yourselves with nothing to do. Take advantage of that time by playing with your baby. Jot down a few rhymes, songs, and games on index cards, and stash them in an accessible location (like in the couch cushions). Next time you have a dull moment, you'll have ideas for filling it at your fingertips. Here are some ideas:

Dance. Turn on some upbeat music, and hold her close as you move to the music. She might develop a sense of rhythm while you get some exercise.

"Run" your baby. Lay her on a bed or other soft surface on her back. Hold her ankles in your hands and move her legs in a gentle running motion as you say, "Run, run, run."

Sing to her. Remember "Twinkle, Twinkle Little Star" and "Baa, Baa Black Sheep"? It's time to get them out of storage.

Play "This Little Baby":
This little baby rocked in the cradle. (Wiggle her arms.)
This little baby jumped in bed. (Wiggle her legs.)
This little baby crawled on the green grass. (Rub her belly)
This little baby bumped her head. (Pat her head.)
This little baby played hide and seek. (Put your face close to her face.)
Where's that little baby? (Hide your face with your hands.)
Ooooh, peek! (Show your face, then cover it.)
Ooooh, peek! (Show your face again.)

3-6 months
During the first year, your baby's brain develops at its fastest rate, and stimulating your baby will enhance this development. Play also helps babies develop socially and deepens their interest in the world around them. Here are some ideas your baby will love:

Play airplane. If your baby can hold his head up securely, and if he enjoys lots of motion, hold him horizontally up in the air, and "fly" him around the house, coming in for a landing in each room.

Show and tell. Fill a large container with objects from around the house. A hairbrush, a piggybank, a spoon, a kitchen timer that dings, a bag of dried beans-anything you can get your hands on. Show your baby each object, holding it about a foot from his face, telling him what it's called and what it's for. Let him touch the objects if he wants to.

Explore textures. Gather together a few objects to represent a variety of textures. Supervise as baby explores them with his hands.

Have fun with sticky tape. As your baby is nearing the 6-month mark, he'll probably enjoy a big wad of masking tape, sticky side out, even more than all those fancy toys. Attach it to him, to his clothing, or to you, and let him have a ball-while you're supervising, of course.

6-9 Months
The amazing first year is already halfway over! At this age, babies are trying hard to communicate through language. Encourage this by responding to her babbling as if you understand exactly what she's saying. This will encourage her to develop her skills even more. Continue to engage your baby in fun activities. Here are some fun ideas that your 6-9 month old baby will enjoy:

Have a puppet show. You know those mismatched socks that you're keeping around just in case they're mates show up? A permanent marker, along with some felt and glue will reincarnate them as puppets. Your baby will love to see them sing and dance, and they'll help her develop her imagination.

Donate a drawer. Those bottom drawers in the kitchen that your baby is always getting into would probably serve you both better if they were filled with toys and interesting objects. She'll love to empty and refill them.

Hide the ball. Take a small ball or interesting object, and place it under one of three upside-down cups. Mix up the cups, slowly, and then help her find the ball.

9-12 Months
Playing games with your baby enhances his overall development, and can help reinforce his secure attachment to you. Besides developing physical skills like coordination, playing games with your baby helps them to develop social skills like taking turns and asking for help. Here are some fun games and activities you can play with your 9-12 month old baby:

Crawl through tunnels. Get a large box (bigger than your baby) and open the top and bottom flaps. Lay the box on its side to make a tunnel. Encourage baby to crawl through by demonstrating how and then waiting for him on the other side.

Make a surprise bag. Fill a small pouch with interesting toys and safe objects. Place it within reach of where baby sleeps each night, after he's gone to sleep. He'll look forward to it in the morning, and maybe you'll get a few extra moments of sleep.

Dig up buried treasure. Wad up enough paper into balls to fill a small bucket. Show baby as you bury his toys in the paper. Enjoy his expression as he finds the buried treasures.

Unwrap the present. Wrap an object in a few layers of paper, folding it around the object, but not taping it shut. Let baby open it, offering assistance if he gets frustrated.

12 Months and Beyond
Imaginations, personalities, and concentration are strengthened naturally when children are given the freedom to just play. But sometimes playtime can be a challenge. Maybe it's raining outside, maybe it's too muggy and buggy, or maybe you're just feeling played-out. Whenever playtime needs a jump-start, just reach for your "Box of Fun" to get things going. Here's how to create your very own "Box of Fun":
You'll need a stack of plain index cards, a writing utensil, a small cardboard or wooden box, and your imagination. If you're feeling motivated, get colored index cards and color code the activities for different age groups.
Your first activity could be to decorate the box. Try finger paints for little ones, or glitter and glue for older kids. Make sure your Box of Fun looks the part!
On each card, write the name of an age-appropriate activity on one side, and the materials needed and instructions for the activity on the other side. If you need inspiration, check the public library for books on kids' activities and crafts. You'll probably love Barbara Rowley's book, Baby Days: Activities, Ideas, and Games for Enjoying Daily Life with a Child under Three. Try different activities, and when any activity is a hit, write it on a card so you won't forget.
When it's time to call in the Box of Fun, let your child reach in and pick a card, then immerse yourselves in the activity. Your kids might get so into it that you even get a little break!
Remember, play isn't just for fun. It strengthens your bond with your baby and helps her grow, develop social and motor skills, and learn. As she grows up, she'll eventually play independently, with other friends, and without mom and dad. So enjoy these fun times with your baby while you can, for the benefit of both of you.