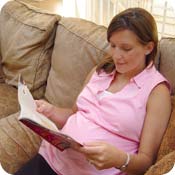 Most of the advice I heard during my second pregnancy just seemed unrealistic.

Don't pick up your toddler, they scolded. Get plenty of sleep, the pregnancy books admonished. Pamper yourself, the parenting magazines screamed. All good advice I had taken gladly during my first pregnancy, when I still could nap every night after work, when I wasn't obsessing over baby names or round ligament pain. During the second pregnancy, I was healthy and experienced enough not to worry about minor aches and too busy wrangling a toddler to notice.

Most days.

I was still pregnant and some days, even the easiest pregnancies can be hard. There are hemorrhoids and backache, fatigue and heartburn. Sometimes, you just need a break. Booking a special pregnancy massage every other weekend wasn't feasible for my budget or my schedule. Instead, I learned to sneak relaxation into bits of time.

Bathtime for the kiddo became spa time for Momma.
When I gave my toddler a bath, I would plop my feet into warm, soapy water and let them soak. My son splashed until he was pruny and giggling, and my aching feet got a rest. Everyone wins.

"Naps all around!" we declared on the weekends.
With only one child, my husband and I took advantage of his daily nap to catch a little sleep ourselves. Women pregnant with No. 3 or more likely will have trouble using this tactic--I know my boys rarely nap together now--but might try to catch even a few minutes of quiet, lying down time by cuddling with an older child. You're just helping them get to sleep.

Speaking of cuddling, make it a daily ritual.
I always was most tired after work, so most days after we got home and dinner was in the oven, I sort of collapsed on the couch with the toddler. Sometimes we would read. Sometimes we chatted. Mostly, it was an excuse for me to be still.

Fun while flopping was the goal.
The most popular game in our house during my pregnancy was something my toddler called, "Vroom!" I called it rest. Here's how it went: He would line up all his trucks in front me, where I lay sprawled on my side on the floor. I would push each car in turn to see which would go the farthest. We cheered as each careened across my living room. The toddler fetched each truck back, and we repeated the exercise.

Little treats made all the difference.
Every so often, after I dropped the toddler off at daycare, I stopped at the coffeeshop near work for a decaf mocha. The luxury of it--crossing a parking lot without a little hand clinging to mine, ordering something frivolous and delicious--made me feel better. I found the same pleasure other days in a square of dark chocolate after lunch or a good book tucked into my purse, just in case I found five minutes alone somewhere.

The doctor's waiting room became a haven.
I was alone in a quiet room with a book and my thoughts. Need I say more?

Like so many things with parenthood, I realized the things that worked for me weren't necessarily the things advised by books or other people. I took good ideas when I found them, but mostly I just stopped fretting and started taking things as they came. I accepted help when it was offered and asked for help when I needed it. I let some things--dusty furniture and that last load of laundry--slide. I encouraged my existing kiddo to be independent but relished the last bits of babydom and single-childhood we had with him. I let my husband take over.

And when the pregnancy was over and I was sitting in the hospital with a new baby, you can bet I took advantage of that room service while it lasted.