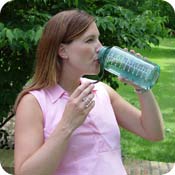 This pregnancy has been what Dr. Phil would call "my wake up call." I actually have something to contribute to the universe even if it is "only" the fact that I have 7 healthy, happy children. I am 13 kilograms (almost 29 pounds) lighter than I was when I joined BabyFit and I feel fabulous.

And I have a whole bunch of support from people half a world and a few keystrokes away. I talk a lot about how it takes "a village to raise a child" and BabyFit is like that village, nurturing and supporting us all.

You will never know what all of you mean to me.


Do you have a Success Story you'd like us to publish on BabyFit? Send your story, along with a photo of you and your baby, to stepfanie@babyfit.com. Submissions should be 500-1,500 words and will be edited for clarity, grammar and tone.