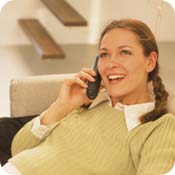 "Wow, you're huge!"?" You are not nearly big enough, is your baby growing?"?"Oh I hate that name"?"You know, you shouldn't do that?"

Have you had unsolicited comments or advice from family, friends or complete strangers? Somewhere along the way, most expectant moms receive comments about their size, habits, and exactly how they should raise their children.

The question is: How should we respond? Obviously there is not an easy answer and it will vary with every situation. Many people do not realize how hurtful, stressful, or just plain annoying all of the intrusive queries and quotes of "scientific data" can be.

Here are a couple of options to consider:

Just ignore it. People often do not realize that they are being hurtful or feel that they truly have a unique bit of wisdom they must share with you. When you are confident that you are communicating well with your doctor and feel comfortable with your weight gain, prenatal activities, and post-natal plans, etc., you are able to politely smile and move on.
Humor. It may put you at ease to laugh off the comments that are not critical to you or the baby. For example, if someone notices a nice shiny new pimple on my cheek, I like to say, "Oh, thanks for noticing!"
Privacy. I've known many couples that simply keep certain information between the two of them. Parents-to-be can keep baby names, the baby's gender, and other choices quiet in order to avoid remarks about whether family members approve or are disappointed before the baby arrives.
Selective listening. There is some really good advice out there. Experienced parents can often share lots of great stories and tips. Sometimes it is all about perspective and reliable sources. There are at least 5 theories on baby's temperament, sleep, eating, etc. Be selective about whose advice you thoughtfully consider. I have one friend whose son is 6 months older than my daughter. She and I are both working moms and we share many of the same values and goals. She always has great advice for me! It is a gift to have her experience to learn from.
Overall, parents should feel confident about the choices they make for their family. Pregnant moms have a unique responsibility to their growing babies and to themselves - this does not require the approval of friends, family members, and strangers.