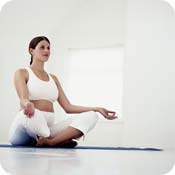 If you've ever stretched or exercised on a hardwood floor, you know just how uncomfortable it can be when sitting, kneeling, or trying yoga and Pilates exercises. For these activities, an exercise mat will offer support and traction, but not all exercise mats are the same. Depending on your activity, the mat you're using could either be helping or hurting your workout-and your body. While many gyms offer a variety of mats, some people prefer to use their own mat at home or in gym classes. You can buy a new mat to meet your fitness needs for as little as $20 at most sporting goods stores and online. Here's a rundown of the most common exercise mat needs, how they're different, and who needs them.

Fitness Mats can be used for general fitness activities that take place on hard floors or carpet. They offer extra cushioning when sitting, lying, and supporting your body on hands, knees, or elbows, whether you're stretching or exercising. Less expensive fitness mats are made of foam or soft fabrics, but they will compress over time and need to be replaced. Cheaper mats also lack traction, which is important if you use your mat on the carpet. Poor traction can also cause your body to slip and slide while on the mat, increasing your risk for injury.

Mats with better cushioning (using air pockets that don't deteriorate) and more traction usually cost more but last longer. You can find waterproof mats (usually made of a "closed cell" structure) that make cleaning easy, and others with antibacterial and antifungal properties. Generic fitness mats are too thick for activities like yoga and Pilates and don't offer the traction that is necessary for those exercises. Depending on size and materials, you can purchase a lower end fitness mat for around $25, and the price only goes up from there with size and quality of materials.

Yoga Mats or ("sticky" mats) provide a thinly-cushioned, non-slip surface for yoga practices and work best when used on a smooth floor. While they offer slightly more padding than a hard floor, yoga mats will not cushion your body well enough for the general fitness activities mentioned above. Their sticky surface can be easily cleaned, and they roll up for easy storage and toting. Yoga mats are now available in extra-thick varieties as well. A basic yoga mat will run around $20. Extra-thick, as well as "designer" prints and colors will cost more. You can also find eco-friendly yoga mats (made from recycled materials, biodegradable materials, and/or natural and sustainable plant fibers such as hemp and jute) starting around $40.

Pilates Mats are much thicker than yoga mats. Thickness is important in a Pilates mat because many of the exercises involve lying on your back, sides or stomach. This mat will help cushion your body (and spine) during movements that involve rocking and rolling up from a supine position. Like yoga mats, they have non-slip surfaces that are easily cleaned, and roll up for storage and easy carrying. Provided that your mat is Pilates-specific and a bit thicker than a standard yoga mat, prices start around $30.

Remember that experts advise women to avoid lying on their backs during pregnancy to ensure adequate blood and oxygen flow to the womb. No matter how thick or cushy your mat may be, avoid supine ("on back") exercises after the first trimester. You can find a variety of exercise mats from online retailers, at sporting goods stores, and in the fitness sections of most general retail stores. To ensure the effectiveness and safety of your workouts, make sure you're using the right mat for the job.