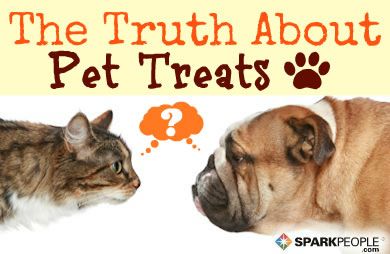 I don't know about you, but I have never met a dog or cat who doesn't love treats. The act of rewarding our pets with a treat is a small gesture that brings a whole lot of enjoyment to pets and pet owners alike. Unfortunately, calories from treats can add up—and they aren't always the healthiest foods for your pet to be eating. As conscientious pet owners, it's important to make sure the treats we feed our pets are nutritious and not just junk. But how can you be sure you're choosing the best treat for your furry companion?

When it comes to pet treats, there is a lot of junk on the market. Many treats are high in calories and contain large amounts of sugar and other undesirable ingredients. Since our domestic dogs and cats live relatively sedentary lifestyles these days, compared to their wild predecessors, many are prone to obesity or are already overweight. It's true that treats can be great training rewards or motivators for dogs and cats, and they provide us with a wonderful way to bond with our pets. However, too much of a good thing can be harmful and lead to obesity, which also puts your companion animal at an increased risk for chronic conditions such as heart disease.

The Food and Drug Administration (FDA) is in charge of regulating dog and cat treats, ensuring that they are safe to eat and are produced under sanitary conditions. However, just like with any other product, it's up to you to do your part as a consumer to make sure that you are making smart choices when it comes to selecting and giving treats. In the wake of recent pet food recalls, many consumers are wary of purchasing packaged treats. While it's true that contamination can happen anywhere, you can always opt to make your own homemade treats as an added measure of quality control.

Here are some basic rules to remember when it comes to pet treats:

Size Matters
A single treat can easily contain 25 percent of a small dog or cat's daily calorie allotment. It's easy to see how one too many treats can easily derail your pet's diet. Generally speaking, treats (even healthy ones) should not make up more than 10 percent of your pet's daily caloric intake. If you need help figuring out how many calories your pet should have to maintain a healthy weight, ask your veterinarian.

Continued ›