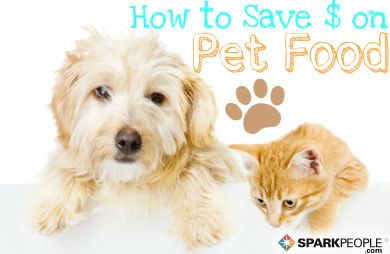 As a pet owner, sometimes it takes a while to find the perfect pet food. You want to satisfy your own desire for something that is healthy, wholesome, made with (or without) certain ingredients, and that makes you feel like the responsible and loving pet owner that you are, providing the best nutrition you can buy. It can take additional experimenting to find the brand or flavor that is right for your pet's individual taste preferences and health status, especially if your pet has allergies or other diet-related issues. Sometimes, the place where all of those priorities converge can be more expensive than you anticipated.

Always a budget shopper, I searched high and low until I found the best price on the food that my persnickety cats (one who is picky and one who has health issues) could both enjoy. While an online rewards program was the best deal for us, there are plenty of options out there to help you buy your pet food without breaking the bank. Here are a few creative ways to save on the ongoing cost of buying your pet's food.

Buy in Bulk
In addition to buying staples like whole grains and spices from the bulk bins at your supermarket or health food store, you can also buy pet food and even pet treats in bulk at some stores. Food purchased from bulk bins (even in small quantities) is typically priced lower per ounce (or pound) since you're not paying for packaging, shelf stocking, etc. When you think of "bulk" buying, you may imaging buying large quantities, but that isn't always the case. Usually, you can buy just the right amount for you at any given time. Pet stores also carry bulk food, and they usually have the most options. Some even carry bulk pet treats so you can experiment with different varieties without committing to a whole box.

Store Coupons and Rewards Programs
Many stores these days offer rewards or incentive programs to turn occasional customers into loyal shoppers. If you're willing to open a rewards account with your local pet store (or grocer), you can get valuable coupons, tips on sales, and other deals, such as frequent buyer programs on the items you buy most.

Amazon Subscribe and Save
If you're an online shopper, consider buying pet food via Amazon using the "Subscribe and Save" program, which automatically renews your order on a custom schedule. Not only does the food come right to your door, but you can save even more by buying larger amounts and signing up for a subscription (my pet food is discounted 15%). Amazon typically ships items for free if you spend a certain amount, and if you're a Prime member, your subscriptions are eligible for free shipping!

Continued ›