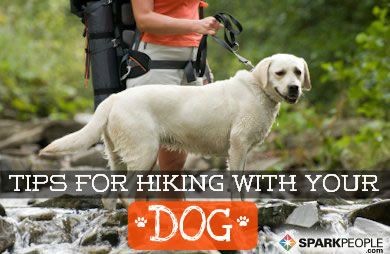 Hiking is a fun cardiovascular workout, burning 350 to 400 calories an hour while providing beautiful scenery and a chance to escape the city. But did you know it's as good for your four-legged companion as it is for you? Most dogs will happily accompany you on short day hike. For longer excursions and camping trips, you'll want to make sure your pet has the endurance to keep up with you before heading out.

Where to Go
After you've tested out a few long walks around the neighborhood, you'll be ready to try a short hike with your dog. Find trails near you by searching websites like Trails.com, AllTrails.com or America's State Parks. (Note: Most national parks allow dogs in very limited areas or not at all.) You can use the same resources to plan longer hiking and camping vacations. Just make sure to look up specific dog rules for any park you plan to visit as they vary widely. For the most detailed information, check out the Best Hikes with Dogs book seres, which focus on specific cities, states and regions across the U.S.

What to Expect
Typical rules and precautions for hiking with your dog include:
Keep your pet on a leash. This is a rule on many hiking trails, yet it's one that is often broken by well-meaning owners who want to give their dogs a little off-leash freedom. It's worth noting that just because your pet is docile or well-mannered doesn't mean other dogs or animals he could encounter will be. The best way to keep your dog safe and away from danger is to keep him on leash. If dogs are allowed to be off leash on the trail you choose, make sure your pet is trained to always come when called, even in the face of major distractions including other dogs, humans and wildlife.

Always yield to human hikers. When you approach another human hiker moving in the opposite direction, lead your dog off the trail to allow the hiker to pass. Not all people like dogs and some might have a fear of them. You should also give horse and bike riders the right of way.

Pick up or bury all waste. Bring plastic bags or a small trowel with you so you can dispose of pet waste appropriately. If you bury waste, do so well away from the trail and water sources.

Bring enough water for both of you. Don't expect to find water on your hike, and do not allow your pet to drink from a stream or creek. Your dog could be sickened by parasites by doing so.

Add a tag with your contact information to your pet's collar. Include your mobile phone number in case your pet gets separated from you.

Be sure your dog is up to date on all vaccinations, as well as flea, tick and heartworm protection. Call your vet about any additional shots like vaccines for Lyme disease or Leptospirosis.
Continued ›