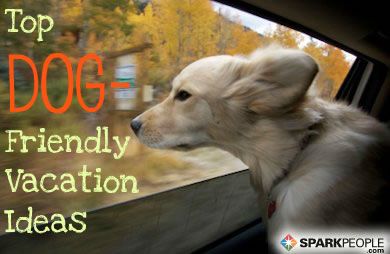 Whether you're traveling solo or bringing the whole family along on vacation, you can add even more fun to your trip by including your beloved canine companion. More than 80 percent of people who travel with pets bring their dog, according to a 2012 survey by AAA and Best Western. The survey also showed that the most popular pet-friendly vacations are visiting friends and family, going on a road trip, going to the beach, camping, visiting a new city and hiking.

One of my favorite vacations was the time my husband and I drove to Savannah, GA, with our dog Jack. We found a bed and breakfast that allowed pets and had a little fenced-in yard. We walked on a nearby beach and around the city, eating outdoors and visiting the local dog park. One day, when we wanted to go on a tour that didn't allow animals, we dropped Jack off at a doggy day care that we had researched ahead of time. Even though Jack is a bit apprenhensive when it comes to new experiences, he did great, and we all had a wonderful time.

Here's what you need to know to plan a trip that both you and your dog will enjoy.

Do Your Research
Regardless of where you go, do your research first. It's not a good idea to just "play it by ear" as you might on a normal vacation. Besides choosing a travel method and a place to stay, you should find out if there are public dog parks you can visit or other outdoor spaces where you can easily walk your pet.

If you think you might like a break from your pet, research doggy day cares and boarding options. Get up-to-date records from your vet and make sure your dog is current on all vaccinations. (Day cares often have very specific requirements, so be sure to call ahead or check their website.) You'll probably need to stop by early in your trip to have your dog evaluated to make sure he gets along with the other animals there.

You'll also want to look into local leash laws and pet restrictions. For example, many beaches restrict when and how dogs are allowed to visit. And certain cities have outlawed specific breeds altogether.

There are plenty of websites devoted to helping pet parents plan successful trips, including BringFido, DogFriendly, PetFriendly Travel and Pet Hotels of America.
Continued ›