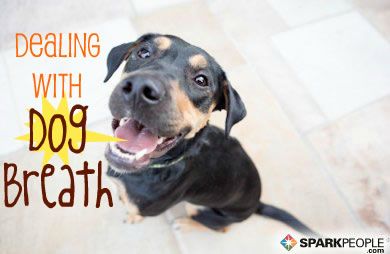 Every pet owner knows there's nothing more heartwarming than nuzzling nose to nose with your cat or having your face covered in puppy kisses. That is, unless your beloved pet has bad breath! We take care to be conscious of our own breath when we interact with others. Dogs and cats are social creatures too, and running around with stinky breath can give your pet a stigma he or she doesn't deserve. Read on to find out how you can help keep your pet's breath smelling fresh and clean.

Bad breath, also commonly referred to as halitosis, most commonly results from excess plaque buildup on the surface of teeth. However, foul-smelling breath can be an indication that your pet has a more serious medical issue such as an infected tooth or abscess, organ disease or even a tumor. A good oral care regimen is essential for your dog or cat to keep his or her breath at its best. Our pets can't tell us when something is wrong, so it's important to pay attention to changes in their breath to recognize when a visit to the vet might be necessary.
Here are five things that can help prevent and treat bad breath to keep your pet (and your nose) happy.

1. Dental Cleanings
Most pets will develop stinky breath over time; it's just a fact of life. Just as we require daily brushing and regular dental cleanings to keep our mouths healthy and bad breath at bay, so do our dogs and cats. For this reason, routine dental cleanings performed under anesthesia are considered the gold standard of care when it comes to keeping your pet's mouth looking and smelling clean. Even the pet owners who take great care with brushing their dog's or cat's teeth are limited when it comes to removing hard-to-reach plaque and bacteria that accumulate below the gum line. And, let's face it: Many pets simply will not tolerate regular brushing. If you keep up with your pet's regular health check-ups, your veterinarian should be able to clue you in on when it's time for a thorough dental cleaning. In the meantime, much can be done to keep your pet's breath smelling clean in between check-ups.

2. Regular Brushing
Developing a regular brushing routine can go a long way in keeping your pet's breath in tip-top shape. For best results, it's ideal to start when your pet is young, although older pets can certainly learn to tolerate brushing, too. Wait until your dog or cat has finished teething to avoid any painful associations (generally around 4-6 months old), and introduce the concept of brushing gradually. You can begin by offering your dog or cat a small amount of pet-safe toothpaste on your finger and work up to brushing from there.

Continued ›