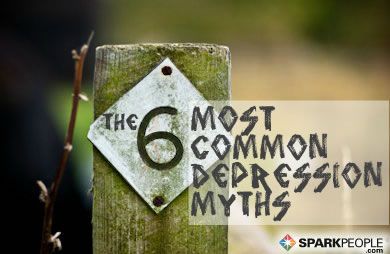 Antidepressants make you fat. Depression only happens to weak-minded people. If your parents were depressed, you will be, too. Depressed people are just sad all the time. Do any of these sound familiar? They're all part of the many myths surrounding depression, one of a cluster of mood disorders that will impact 9.5% of the U.S. population in any given year. Below are six of the top fears and misunderstandings about depression and the facts that can help dispel them.

Depression Myth #1: Being depressed is all your fault.
If you have depression you may have been told to, "Snap out of it," or that you can "decide to feel better." But it takes more than willpower to overcome clinical depression. We don't ask people with a cavity to fix their own tooth or expect someone with high blood pressure to resolve that issue on their own; it doesn't make sense to expect someone with depression to think their way out of their illness either. And depression is not merely a passing emotional state, but a distressing, perplexing condition that saps physical and emotional energy and can last much longer than a case of "the blues."

Learn more about the various treatment options for depression.

Depression Myth #2: Depression is just a deeper form of sadness.
Prolonged and deep sadness can be symptoms of depression, but some people with depression never feel sad at all. Instead, they may feel listless, have trouble finding joy and fun in activities, or even spend a lot of time sleeping. Or, they may feel emotionally numb and empty or have difficulty connecting with others.

Because there are different types of depression, from seasonal depression to dysthymia (long-term, low-grade depression) to major depression, symptoms can vary from person to person. Even among people with the same type of depression, day-to-day symptoms can vary widely. One person's inability to sleep and concentrate can indicate depression, but so can a loss of self-confidence.
Depression is not merely sadness magnified. It is an illness unto itself, with sadness as one possible symptom.

Depression Myth #3: Depression is purely genetic.
Depression is complicated and we still don't understand exactly what causes it, but the fact is that people with no family history of depression can become depressed. And while depression does tend to run in families, having a family history of depression doesn't guarantee the illness will be in your future as well. Depression is correlated by a wide variety of risk factors, including personality traits (pessimism, low self-esteem), stressful life changes and chemical changes in the brain.

Continued ›
Article created on: 6/11/2013