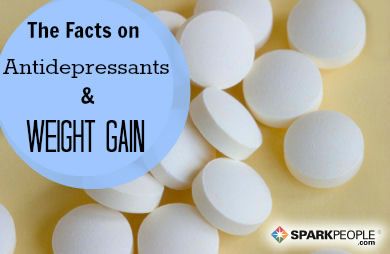 For many people, depression and weight problems go hand in hand. Depression itself is highly associated with changes in weight. In fact, significant weight loss or gain is one of the symptoms used to diagnose depression. And research has shown that up to 25% of the people who take antidepressant medications may also experience weight gain. Needless to say, finding yourself in that group can be very frustrating.

While we know there is a connection between depression, antidepressant medications and weight gain, it's impossible to predict how a particular medication will affect your weight, or what other side effects it might have for you. And even if you do start gaining weight after starting on antidepressants, it will be hard to know for certain if the medication is causing the problem, or if changing it will solve the problem.

This means that, if you do find yourself gaining weight when taking antidepressant meds, you and your doctor may need to do some real detective work to figure out what's going on and what to do about it. It can be hard enough finding a medication that works well on your depression with minimal side effects, so giving up an effective medication for the chance that a different one might cause less weight gain can be a dangerous proposition.

Here's some general information that can help you do this necessary detective work, so that you and your doctor can make the right decision for you.

Why do antidepressant medications lead to weight gain?
The answer is multifaceted. Sometimes the weight gain may simply be due to the fact that the medication is actually working. For many people, depression causes loss of normal appetite, reduced interest in food, or an inability to experience the pleasure you normally get from eating. If that was the case for you, it could be that you're simply eating more food now because the medication is helping you get back to "normal" eating habits. Or maybe you're feeling a little better than normal, and eating more for the pleasure of it, without even realizing that's what you're doing. Changing your medication probably won't make much difference here. In this case, you'll just need to work on balancing your eating and exercise to get your weight where you want it to be.

But medications can have other effects as well. In some people, they can increase appetite above and beyond what's "normal," or even increase cravings for certain foods, especially carbohydrates. Sometimes people gain weight even though their actual eating habits haven't changed, so it's also possible that antidepressant medications can alter your basic metabolism.

Continued ›