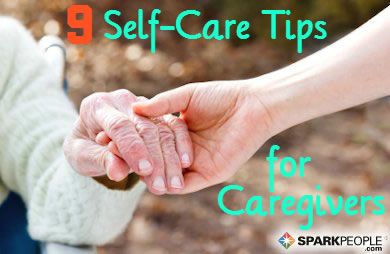 As I sat across the cafe table from my dearest friend, Margie, I was struck by how tired and drawn she looked. This was the first time we had seen in each other in months. Before, we had made a point to meet for lunch or coffee once a week. Now that she had moved her folks close by to help with her father's care after his Alzheimer's diagnosis, there never seemed to be time.

I listened quietly as she shared what life was like for her these days. After putting in a full day of work as a teacher, many afternoons she drove 25 minutes to the assisted-living facility to handle the day's crisis or just to give her mother a break. Margie feared her mother was showing signs of being clinically depressed, so she planned to accompany her to a psychological evaluation on Saturday.

Admitting to her intense feelings of anger—at the situation, at her sister who lived on the other side of the country, at her husband who couldn't understand when she felt too tired to go out on a Saturday night—she felt guilty for feeling angry. Having abandoned her own exercise program, she now had flare-ups of chronic back pain from lifting and moving her dad when he refused to do it himself. I could see her disappointment in the many pounds that she had gained, after working so hard the year before to lose them.

Margie is certainly not alone in experiencing the burden and stress of the caregiver role. I reflected back on my own experience caring for my folks the year my father was diagnosed with Parkinson's disease, and my mother fell, breaking her arm, while visiting him in the hospital. That was a long, hard winter for my siblings and me, as we traveled back and forth to Florida to help them set up the ongoing care they would need when we were not around.

Finding Support
Thrust into a position of attending to an elderly and/or disabled loved one, caregivers often sacrifice their own physical and emotional needs. Feelings of anger, anxiety, stress, isolation, exhaustion and guilt are all too common--not to mention the increased risk for health problems such as headaches, digestive distress, chronic pain, difficulty sleeping, weight gain and depression.

Research has shown that these symptoms are even more pronounced in those caring for individuals with dementia and Alzheimer's. What Margie and her mother were experiencing is certainly understandable.

Continued ›
Article created on: 6/25/2013