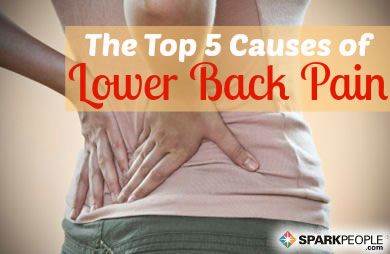 Back pain is one of the most common complaints doctors hear from their patients. In fact, studies show that more than 80% of Americans will suffer from at least one episode of back pain during their lifetime. Back pain can range from mildly annoying to completely debilitating depending on the cause and severity of the symptoms.

So what really causes back pain? The answer is complex, but what we do know is the following people are at a greater risk of lower back pain:
Adults between the ages of 30 and 55.
People who smoke. (Researchers theorize that smoking may decrease blood flow to intervertebral discs which can lead to accelerated cell death.)
Adults who had episodes of low back pain as teens.
People whose occupational activities require heavy lifting, pushing, pulling, etc.
Those with a history of depression, anxiety or insomnia. (These conditions may affect a person's ability to deal with pain.)
Beyond these risk factors, there are a variety of problems that cause lower back pain. Here are the five most common causes of back pain—and what you can do about it.

Strains or Sprains to Back Muscles
Strains (injuries to a muscle or tendon) and sprains (injuries to a ligament) are the most common causes of back pain. Moving suddenly, twisting or lifting heavy objects can cause microscopic tears in the muscles, tendons or ligaments in your back. Depending on the severity of the tear, this can cause mild to severe pain that comes on immediately or soon after an activity such as heavy lifting. The lower back area can be sore to the touch and achy, and muscle spasms can also occur.

Treatment: Strains and sprains often heal on their own with home remedies, such as rest, ice and/or heat, gentle stretching and anti-inflammatory medication. Ice is generally used to reduce inflammation and swelling, while heat can help reduce muscle spasms. However, if you can't walk more than four steps without significant pain, can't move the affected area, or have numbness, you should see a doctor right away.

Degenerated Spinal Discs
Spinal discs are soft, fluid-filled "sacs" located between each vertebra of the spine. They provide a cushion for the vertebrae, helping absorb impact and shock. Over time, the discs can degenerate or wear out, especially in the lumber (lower back) region. Some disc degeneration is part of the normal aging process. Other disc issues can be caused by injury or trauma to the back. The wearing down of intervertebral discs causes chemical and physical changes within the discs that can lead to inflammation and nerve-related pain, usually contained in the lower back region and not extending into the arms or legs. It is usually brought on by activities that compress the spine, such as bending forward from the waist, sneezing, coughing or sitting for prolonged periods of time. Often, it is relieved by a change in position such as standing up or lying down.

Continued ›
Article created on: 5/22/2012