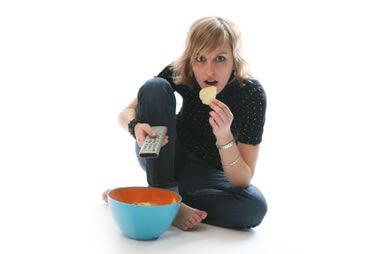 Many people claim that they don't have time to work out or cook healthy meals, yet they do find the time to park themselves in front of the TV. In fact, the average American watches 31.5 hours of TV per week, according to a 2010 Nielsen report. That's almost as many hours as most of us spend working! That's a lot of hours that could be spent shopping for and preparing nutritious meals, hitting the gym or even taking up a new hobby.

If you think your loyalty to your favorite TV shows could be interfering with your life—or your pursuit of health—then read on.



10 Signs You're Watching Too Much TV



1. You've turned into a hermit. If you can't commit to a night out with your friends because you don't want to miss the latest episode of your favorite show—or even one of your top 10 favorite shows—you may have an addiction to TV. Hanging out with friends can combat loneliness and put you in a better mood. Plus, time with buddies may even help you live longer, according to the Journal of Epidemiology & Community Health. So don't banish your buddies just because you love that show about people who fish with their bare hands. Set the DVR—or if you're old-fashioned, program the VCR—and head out with your friends. Even better: Go for a walk with your pals to get your heart pumping.

2. There's a dent in your couch where your butt usually goes. If your couch is looking increasingly lopsided, it might be a sign that you're spending too much time parked on its cushions. Don't just flip them over or switch your position to fix the problem—get off the couch! There are numerous exercises that can be done with little or no equipment while you watch TV—think jumping jacks, push-ups, sit-ups, squats and lunges—or you can crank up your treadmill while you catch up on the latest episode of

Real Housewives

. Choose an hourlong show to get moving to, or if you'll be camped out for a while watching a marathon, get moving during commercial breaks instead of heading to the kitchen for that snack.

3. Your dog jumps onto the couch and looks at you with sad puppy dog eyes when you don't join her. If even your dog has gotten used to your nightly routine of snuggling on the couch while watching Animal Planet, it may be time to break away from the boob tube. Take your faithful furry friend for a long walk—you'll both benefit from the exercise and the change of scenery!

4. You find yourself ordering out so you have more time to veg. If you're calling for pizza delivery or stopping to get takeout on the way home so that you won't have to bother with groceries or cooking, it might be a red flag. Skip a show or two so you'll have time to make that healthy meal before getting comfortable for an evening in. Healthy cooking can even be quick and easy!
Continued ›
Article created on: 9/6/2011