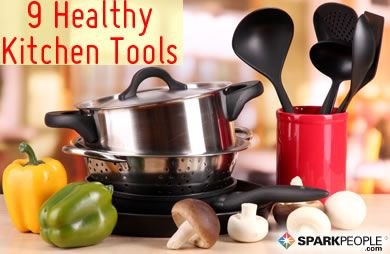 Standard kitchen appliances like ranges, ovens, and refrigerators undoubtedly revolutionized the way we prepare food. Chances are you probably have all three, and use them constantly. But there's a whole world of gadgets and small appliances that can further reduce the time and effort you have spend creating delicious and healthy cuisine. These gadgets are not essential to eating well, but they can make it more fun and a whole lot easier. Here is a guide to kitchen appliances that will help you in your never-ending quest to eat more healthfully.

Blender
Why to buy: If you want to make smoothies, milkshakes, pureed soups, or a variety of other blended concoctions, then a blender is for you.
How to buy: You can buy a blender almost anywhere. Look for a glass pitcher that holds at least 40 ounces, a weighted base, removable stainless steel blades for easy cleaning, and at least 350 watts of power.
Cost to buy: $40 and up.
Crockpot
Why to buy: When you walk in the door from a long day, the last thing you want to do is to start chopping vegetables for dinner. A Crockpot, or slow-cooker, can help by having dinner ready for you when you walk in the door! Place your ingredients in the crock in the morning, turn it on, and leave. Healthy dinners are a breeze.
How to buy: You can buy a Crockpot online and in stores that sell kitchen appliances. If you're just cooking for a few people, look for one with a three- to four-quart capacity. Large families might want to consider a six-quart crock. Also be sure to buy one with a removable crock (for easy cleaning), and a one-piece glass lid.
Cost to buy: $30 and up.
Dehydrator
Why to buy: Often, sticking to a healthy diet isn't difficult during the meals themselves, but in between them. Ever become famished at 4 p.m., only to gobble down whatever was lying around and regret it instantly? Keeping healthy dehydrated snacks around solves this problem. In a dehydrator, you can make dried fruit, dried tomatoes, fruit leather, and even protein-rich jerky. Stock your pantry (or even the glove compartment in your car) with these healthy, whole-food snacks and thwart the temptation to inhale empty calories from chips, pretzels, or cookies. With this easy-to-use appliance, you can also make more complex "raw" treats like granola, crispy raw almonds, and sprouted grain crackers. Pick up a raw foods "un-cookbook" or look online for recipes.
How to buy: You can purchase a dehydrator online and in stores that sell kitchen appliances. When choosing, look for one that gets horizontal aid flow, as it will dehydrate more evenly. Also take into consideration the size of the unit, in terms of its capacity (will it make enough?) and its overall size (you'll have to store it when it's not in use).
Cost to buy: $30 and up.
Continued ›
Article created on: 5/22/2007