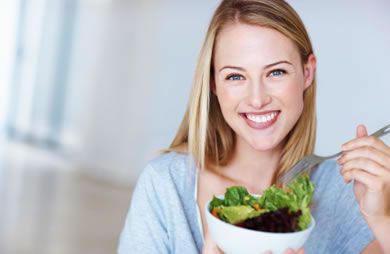 Do you often feel like your weight loss efforts are a constant battle, with as many defeats as victories? Are you plagued by frequent cravings when you stick to your diet, and by guilt or shame when you don't? Do you even remember what real hunger feels like? How much time do you spend thinking about food, counting calories, and worrying about your weight—enough to think that something is seriously "wrong" with you?

If these examples sound like you, then you're probably still living in a "diet" mentality. With this mentality (and its narrow focus on numerical results), you are fighting against the very thing that can help you lose weight without all the suffering and distress—your own hunger. Furthermore, the tools and strategies that can actually help you succeed (nutritional knowledge, calorie counting, self-discipline) become transformed into weapons of self-defeat.

This article is the third in a series that describes "normal" and abnormal eating habits. (Part one looked at some of the basic characteristics of normal eating. Part two contained a checklist of behaviors often associated with disordered eating.) This article will explore mindful eating, an alternative approach that can help you turn around the problems described above. It involves learning to recognize, respect, and respond to your hunger, and making conscious, purposeful decisions about eating in the moment, not just before or after the fact.



The Roots of Mindful Eating: Paying Attention to Your Hunger


Hunger describes the escalating, physiological sensations you experience when your body actually needs food: rumbling, unpleasant stomach contractions (hunger pangs), mild lightheadedness, difficulty concentrating, irritability, faintness, and headaches. For most people who regularly eat a balanced diet with adequate calories, hunger will set in about four hours after the last meal, and will escalate after about five hours.

Feelings of fullness or satiety will occur when your stomach reaches a certain level of fullness (about 75% of its maximum capacity). These sensations also escalate from mild fullness, to "stuffed" to bloated and uncomfortable. Even if your stomach is nearly full, you may want to continue eating for a couple of reasons. One—it can take up to 20 minutes for your brain to receive the signal that your stomach is full and for the brain to send the "stop eating" signals to you. And two, eating feels good!

Dieting doesn't work for many people because it doesn't offer anything you can actually use in the moment, when deciding what, when, and how much to eat. In that moment, success or failure at achieving permanent weight loss is determined. Making good choices in the moment requires three skills:
the ability to recognize your innate hunger and satiety signals;
the ability to distinguish between hunger, appetite (preferences, habits, tastes), and impulse;
the ability to stay grounded in your self and your goals so that it is you making the decisions—not hunger, appetite, impulses, or your diet rules.
Continued ›
Article created on: 7/26/2006