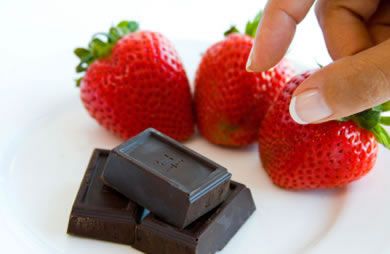 Do you often wonder how "normal" your eating habits are, or how they compare to what experts consider to be a "healthy" approach?

If you've adopted SparkPeople's "lifestyle" approach to weight loss, then you know that a crash diet—or any other temporary diet—isn't a good idea. But what does "normal" eating look like, especially when you have quite a bit of weight to lose?

This article is the second in a series of three that discuss "normal" and abnormal eating habits. (Part one looked at some of the basic characteristics of normal eating.) This article contains a checklist of behaviors and thought patterns that are often associated with disordered eating. Chances are that you will find some of your own habits on this list, but before you reach for the panic button, here are some important things to keep in mind:
"Disordered eating" includes many behaviors and attitudes that are extremely common and not always a signs of a significant problem. The difference between normal and disordered usually comes down to a question of frequency, degree, the extent to which the behavior causes problems or distress for the individual, and the amount of control the individual has over the behavior.

Wherever you find yourself on the normal-to-disordered spectrum, these problems do not define you as a person, nor do they determine or limit your potential for achieving a healthy weight and creating a healthy lifestyle for yourself. You are not a disordered person. You are simply a person with particular challenges to overcome on your way to establishing a healthy relationship with food.

This list does not include most of the formal symptoms of clinical eating disorders. Rather, these are the "diet-mentality" behaviors and attitudes that are usually behind such common experiences as failure to lose weight or maintain weight loss; chronic motivation problems; emotional eating; excessive hunger and cravings; inability to manage the ups and downs of weight loss without significant distress; and lifelong yo-yo dieting.
By recognizing that these behaviors and attitudes are "disordered," and choosing to change them now, you can prevent yourself from developing a full-fledged eating disorder, and make the transition from chronic, unhappy dieting to a satisfying lifestyle change.
Continued ›